by Con Chapman
Lifestyles Editor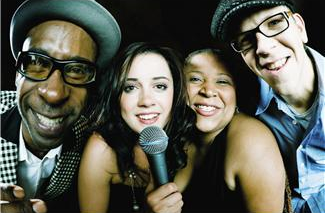 DANVILLE, Kentucky. This idyllic town is home to the University of Middle Kentucky, a country cousin within the state university system but no stranger to big-time academic politics. "Every year we're torn apart because somebody didn't get tenure," says Lionel Suggins, a food service employee who follows campus politics from the Claude Shuckter Student Union. "It breaks your heart to watch some Ph.D. crying into his tuna casserole."
So UMK took a bold step to remove politics from tenure decisions, divesting faculty of their traditional power and replacing it with a reality TV talent competition modeled on shows such as "American Idol."
"Tenure decisions are contentious," said Dean Philip Reny. "We believe the best approach is to select a full-time professor by open competition before viewers who were looking for The Search for the Next Pussycat Doll and pressed the wrong number on their remote."
The English Department serves as the guinea pig for the new protocol, and two very different candidates compete for a single professorship that will save them from a life commonly referred to as "post-doc hell."
"Some people who don't make the cut end up teaching English in high school," notes Norbert Scribner of the American Association of University Professors. "Others are luckier and wind up homeless."
The first candidate is tula marie Beecher, a woman who downshifted to lower-case initials as an undergraduate but agreed to re-capitalize her last name when her father agreed to support her during the decade when she wrote her dissertation.
"What are you going to perform for us?" asks Dr. Edward Sandell, an expert on John Milton's "Songs from Comus."
"This is a little something that I hope brings tears even to the most heartless patriarchic bastard," she says in a sultry voice as she launches into a monograph on the lesbian poet Sappho. "There were lots of good reasons she loved women so-o-o," Beecher sings as she brings her song to a stirring conclusion. "Just ask me—I'm a girl who kno-o-ows."
Next up is Frank Sheed, a specialist in so-called "Kmart Realism" writers whose works feature working-class characters made numb by consumer capitalism.
"Ready to depress us?" Sandell asks cheerfully.
"Ready as I'll ever be, Doc," Sheed says, then transforms himself into a gloomy apparition. "So many varieties of Edge Shaving Gel in my personal hell," he declaims in a monotone. "Purple, green, orange—what difference does it make?"
Only one contestant can advance, and the moment of truth arrives as the Committee of Six confers among themselves, prepared to overturn viewers' decision if necessary to maintain the department's reputation, as Sandell checks a laptop. "What are the vote totals?" the Dean of Faculty asks.
"It's funny," Sandell replies. "Either something's wrong with my computer or nobody cares."