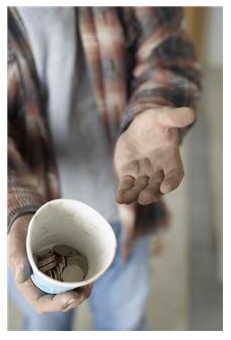 Members of the Greyson College Young Liberals Club have recently begun a campaign to end all support services for their local homeless population.
"You should have seen them. It was disgusting," said junior Allison Finney. "They receive aid from charities and the government and they just squander it."
According to Finney and other students who volunteered at a local soup kitchen for the homeless, the homeless showed no regard for anyone but themselves.
"Most of them wore clothes that weren't made in the USA," said freshman Clay Dubin. "The ones who helped us with the food were also incredibly selfish."
According to Dubin, the homeless residents of the shelter used donated funds to buy groceries that weren't grown locally.
"I was already shocked to see that the residents weren't vegan, but at the very least they could have bought food that was 100 percent organic," said Finney. "It's like they didn't even care about the earth."
The Young Liberals are appealing to charities and the government to cut off all funding until the homeless can prove that they can be trusted to be fiscally and environmentally responsible.
"Until everyone can all be as understanding as we are about the world we will just have to serve role models," said Dubin. "Hopefully someday we can all be icons of compassion."