by Monty Tufnel and Henry Wenslydale
Freelance Writers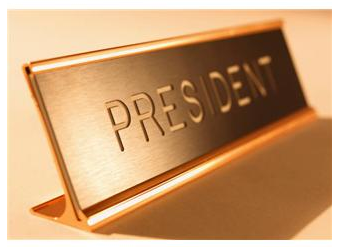 Coming on the heels of the University's controversial proposal to monitor adjunct faculty work hours, Smothers University President, Dr. Leland Popovich, has been getting death threats upon the release of The Chronicle of Higher Education's annual list of Private College Executive Compensation.
The death threats started as soon as Popovich reached his office the morning of Monday December 10. He found a hastily scrawled note saying, "3/4 of a million dollars?!? And I make less than two grand to teach one of your stupid courses? Die, pig, die."
"I wasn't even sure what it was referencing," said Popovich, now hiding in the college's exercise facility. "It was only when my Executive Vice President for Human Resources mentioned The Chronicle story that I understood. We just need to clarify my salary is only $738,000, not three quarters of a million. Also, between taxes and donations back to the University, I don't even make that amount."
Clive Sallow, Director of Public Relations, quickly added, "Included in President Popovich's total compensation number is the value of his benefits plan which is comparable to that of all full-time Smothers faculty and staff. Don't forget as part of last year's budget savings initiatives, he is now responsible for paying the utilities at the Smothers Presidential Residence as well as fuel for his university-provided car."
By late in the day Monday, Popovich had sought refuge in the exercise facility. At that point, he had already received eleven handwritten death threats, 58 threatening emails, and someone had hacked his Facebook account and added "Medieval Warlord" to his online curriculum vita. Popovich was escorted by campus security to the exercise facility with a heavy raincoat draped over his head. Bystanders along the way booed and cackled at the college president as he walked along the Concord Mall.
As a total compensation package, Popovich's $738,000 puts him 66th among all private university presidents. He receives a base salary of $472,000 and then earned a bonus of $208,000. Much of the vitriol aimed Popovich's way has been about the bonus.
"Popovich shut down the hot food service in the faculty lounge," said Aaron Gladstone, adjunct faculty member in social sciences, "and for that he gets $208,000? Ridiculous!"
Faculty Union chair Dr. Harry Worth remarked, "We are withholding any statements on this issue until we can determine if the University is willing to use the same benchmark for our wages during the next contract negotiation as they used for his."
Smothers Chairman of the Board Ken Swagg, defended his president's compensation, and the bonus in particular. "The Board does not take the granting of bonuses lightly," said Swagg in a university press release. "Popovich and his entire executive team made a number of tough decisions this year in the best interest of the college. By reducing the overall operating budget, he has shown his fiscal soundness." Swagg was not available for further comment, according to Sallow.
"We urge everyone to remain calm and respect the sanctity of the academic environment," pleaded Sallow from outside the Swagg Exercise Facility. "No resolutions to our differences will come from hate language. As usual, the press has oversimplified Dr. Popovich's compensation. When the time is right the university will address individuals' concerns in an orderly fashion. For now, we encourage everyone to return to the classrooms so that we can continue to make sure our students get their money's worth from their education."