by Freddie Branch
Freelance Writer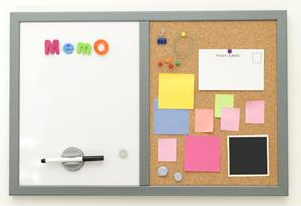 "I just want to thank my hall director for pushing me to give bulletin boards another shot" said Resident Assistant Catalina Kelly, a second year RA at Kindred State College. "I had pretty much given up on them because nobody even reads them. Or so I thought!"
Kelly's year started out like any other, but then in October a problem started when one resident told an off-color joke about another's ethnicity. This sparked a feud that lasted well into December.
"At first I thought they would just get over it." remarked Kelly's supervisor Sawyer Thackery, "Catalina told me about the conflict in November and I coached her through setting up meetings and working on a mediated floormate agreement. Unfortunately none of it had any effect and the tension was just getting worse."
On December 13, Kelly (@BestRAEverrrr) tweeted "Mars Attacks is totes my fave movie! Gotta love Jack as POTUS! #WhyCantWeAllJustGetAlong". It was at that moment she realized her floor needed to "all just get along." She brought this idea up with Thackery, who suggested she use her tweeted philosophy for her bulletin board theme.
"I worked really hard on this one. I used different die-cuts and printed in color. I knew this was going to be big," said Kelly. "No amount of trust-falls, privilege walks or jelly beans where the colors are different and don't match the flavors could accomplish what this board was going to!"
After the bulletin board went up the feud finally came to an end with teary-eyed apologies and sobbing confessions of "We should all just get along!" The entire floor ended the night by watching Mars Attacks and sharing a really big bowl of popcorn.
Director of Residential Life Guster Newmann remarked, "We finally discovered how to end all –isms and injustice in society. If not for that board, ignorance would have won. Instead diversity prevailed! We have been spending a lot of money on diversity workshops when all this time the idea was right in front of us in the 1996 Tim Burton classic Mars Attacks! Who knew?" When asked if he had seen the bulletin board Newmann replied that he has not, but had heard it was "really colorful, included a rainbow and used a lot of die-cuts."
Kelly is really proud of her floor and remarked "No one has any ignorance anymore because whenever they do someone just asks them, 'Why can't we all just get along?' and then they do."