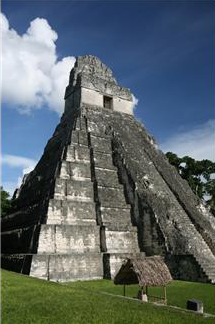 In an unprecedented showing of student/staff collaboration, the Mayan-American Student Association from Trident College teamed with the institution's development office to celebrate the end of the world.
"We're almost at the end of our year-long capital campaign and we're nowhere near our goal," said Director of Campus Fundraising Kathy Radnovich. "After a disappointing drive last year, the president made it clear that my staff would have to deliver or else."
The team will wrap up its most recent campaign Friday December 21 with a 24-hour student phonathon anchored by the Mayan-American club.
"I'm 1/128th Mayan," said junior Meghan O'Shaughnessy. "I'm proud of my heritage, but until this year I couldn't find enough students from similar backgrounds to form a club. This year, lots of students felt a tie to their roots and joined forces, but for some reason the International Student Union didn't want to recognize us. I almost gave up, but the development office was more culturally sensitive and wanted to work together."
"Every other student went home for the semester break as soon as their finals were done," said Radnovich. "We heard that they Mayan students were going to stick around. They seemed to understand when I explained to them that this is the end of the world for me if I can't deliver donations."
"Meghan told me the development team is having a 24-hour End of the World Party," said Shaniqua Jackson, who was approached by O'Shaugnessy, who noticed the "Kiss Me, I'm Mayan" tee-shirt she wore to class on Friday. "I was already planning to stay on campus until Saturday so I could find the best parities."
"I didn't quite understand the connection when a student from my alma mater called today to say he was Mayan and needed money for a new physical ear," said Frank Calleta '39. "He sounded a little drunk, and I think he meant 'fiscal year.' I pledged 50 bucks."
"We've moved to within 8 percent of our goal just this morning," said Radnovich. "It's almost miraculous! The students calling recent graduates said they were the most generous givers."
"They younger they were, the more giddy they sounded," said O'Shaughnessy. "Lots of them said things like 'We're Mayan today, too! What do I have to lose?' and maxed out their credit cards to help us. I'd almost say they were drunk with pride for their mother school and country."