The Satire Project is a Can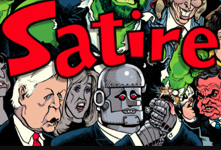 adian initiative to provoke laughter and thought about global politics. Their crack team of writers, cartoons and (we're not kidding) puppeteers hope to bring informed mockery to government nonsense.
Satire Project founders Suzanne Gallant and Andreas Krebs will join host Leah Wescott to talk about The Satire Project, a Canadian movement aiming to fix all that ails world politics through brilliant comedy. Read more at http://thesatireproject.ca/about-us/#.UN3X8oVU1JM.

Friday January 4, 2013
2:00-3:00 p.m. Eastern Standard Time
Podcast Link: http://www.talkshoe.com/talkshoe/web/talkCast.jsp?masterId=124369&cmd=tc

Help us spread the word: https://www.facebook.com/events/355614874537265/
Links to other projects produced by Suzanne Gallant and Andreas Krebs: