by Con Chapman
Lifestyles Editor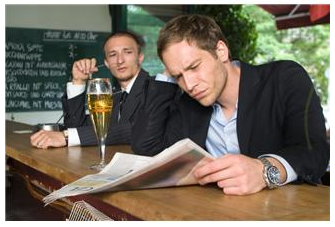 KALISPELL, Montana. The pressure on colleges to achieve gender equity in the so-called "STEM" fields of science, technology, engineering and math is increasing, and no one feels it more than men like Professor William Orosin. "I became chair of the Mathematics Department just as the issue was coming to a boil," he says, shaking his head at the memory. "All of a sudden things weren't black and white, cut-and-dried equations, which is what I'm most comfortable with."
Faced with a mandate to hire a female professor and persuade more young women to pursue doctoral studies in math at Western Montana State, Orosin found himself losing out to schools with bigger endowments. "We only had one programmable calculator," he recalls ruefully, "and it was solar-powered," a problem during this state's long northern winters.
His frustration caused him to turn to alcohol for relief, and he became such a regular at a student bar known as "The Shack" that he began to get his mail there. "I had to get away from the office," he says. "The Annals of Mathematical Statistics actually makes a pretty good coaster if you're buying beer by the pitcher."
It was on a Monday when the bar was trying to goose up attendance with a "Ladies Drink Free Night!" that Orosin had his "Eureka!" moment, like Archimides. "I was looking around and noticed that the usual male to female ratio of 3.756 to 2.174 had dropped," he recalls. "I don't mean to patronize you," he says, assuming correctly that this reporter turned to writing because he couldn't handle higher mathematics, "but I put two and two together and solved for X."
The upshot of that moment of inspiration was a "Ladies Matriculate Free!" policy under which female students can pursue a graduate math degree at no cost provided they can show a valid ID and are wearing a revealing scoop-neck top or a tight sweater. "We have to maintain our high standards," Orosin says as he reviews the transcript of Mindy Carlino, a "yell squad" leader at Texas Western Teachers College who decided to switch to math from elementary education because of the new policy.
"I've always been good with numbers," Carlino says as Orosin carries her G.P.A. out to four decimal places to make sure she meets the minimum standards for financial aid. "Like '2 bits, 4 bits, 6 bits a dollar, all for Texas Western, stand up and holler!'"
Other, more prestigious schools have not adopted Western Montana's approach for fear that academic quality will be compromised, but Orosin discounts their concerns. "Some of those guys are too lazy to do the hard research," he notes as he scribbles an equation on a napkin. "I personally haven't missed a wet t-shirt night in the last two years."