by Henry Wenslydale and Monty Tufnel
Freelance Writers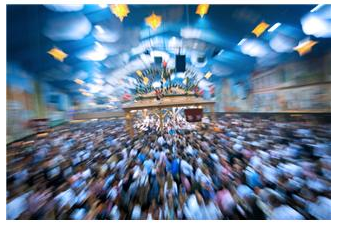 Chicago, Il: University executives from across Chicago admitted this morning that they held a huge rave to celebrate the recent announcement that the University of Phoenix was "placed on notice" by its regional accreditor. The schools stand united, saying that there was nothing inappropriate about their "Apollo Launch Failure Party," which ended in arrests, scandal and several potential resignations.
"We got together to celebrate our belief in higher education. For-profit institutions devalue the noble values and goals of universities," said Byron T. Whist, spokesperson for the Educational Affairs Group, a public relations firm hired by the local colleges and universities. "The rave was originally going to be a more restrained gathering we planned in October after Phoenix announced they were closing over 100 locations nationwide. When we got word of the 'on notice' things took off from there."
The ravers involved insist reviews of the party were generally quite positive. According to Whist, "We had minimal overhead and spent almost nothing on marketing. Our entire focus was on creating a high quality experience for all of our attendees to celebrate the virtues of true learning communities."

Some anonymous sources say that the activities of the two-day bash held at a secret warehouse in downtown Chicago hardly promoted such high-mindedness on the part of the 700 or so attendees representing every not-for-profit institution in the metropolitan area.

"Some of the activities were harmless fun," said one anonymous source. "'Tag… You're ITT Tech,' was hilarious. In some ways, the game honored the for-profits in that anyone tagged ITT could pay their way out, tossing $100 into a central pot that would go to a central scholarship fund."

The same source cited other benign ways to pay the kitty. Guests apparently had to undergo retention studies all night. Every time administrators went to the restroom, they were publicly humiliated for having low bladder retention and forced to put $10 into the central pot.

"Given the age of many of our leaders, this was a great way to raise scholarship money," said the witness, who also explained that "however cruel that may sound, participants were able to earn 'kitty credits' by providing direct and indirect measures of validation. Of course, if you were ITT Tech-ed, your credits weren't transferable."

"I don't know about 'harmless' fun," said another anonymous attendee. "I felt very uncomfortable when a stripper dressed as a flaming bird jumped out of a cake. A guy wearing a Higher Learning Commission sash hosed her down until she was extinguished. The whole thing was merely an excuse to get to the kind of wet t-shirt contests we deplore with our students."

A cappella group, Voysezz 'n Noysezz, said they were surprised to be asked to play the event and ultimately insulted when DJ Master Pre Pared kept an on-going backdrop of dubstep music behind their vocals. Baritone Mikey Turnstone admitted the group was confused about why they were asked to wear Minnesota Vikings ("in Bears country?") jerseys until someone told them after the party about Capella University operating out of Minneapolis. "On top of that," said Turnstone, "there was an idiot calling for Ashford & Simpson songs all night long." In the end, Turnstone claims the group has no ill feelings about the event: "We could be mad about the whole thing, but I finally have a lead on the MBA I always wanted. All's well that ends well."
Likely this story would never have been known if not for the fate of tiny liberal arts Richardson College. A member of the Chicago higher education community for 55 years, Richardson officials were denied entrance to the party on the false premise that they were for-profit.

"Richardson College wasn't on our list," said Whist, "and when Richardson officials drove up in their Audis, Saabs and Cadillacs, they fit the profile of for-profits to a T. Our bouncers never thought twice about asking them to leave."

"I was enraged," said Richardson President, Dave Grand. "Our students pay $60,000 a year in tuition for the most exceptional scholarship and leadership in the region. I can't believe my colleagues in the city aren't enraged with me." Rumors persist that Grand made the anonymous call alerting the media about the rave.

"We are Richardson UNIVERSITY," lamented Grand. "We've been a university for 15 years now. What does it take to get that through people's heads?"