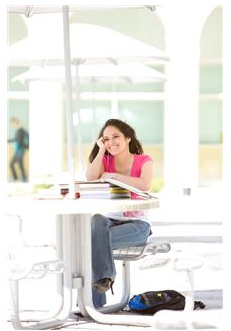 Elpenor, MI—Last week, Circe College's Joint Committee of Students and Faculty unanimously approved a resolution to devote its resources to the recruitment, empowerment, acceptance and promotion (REAP) of women. Although Circe has been a women's college since its founding in 1871, many women still feel silenced on campus today.
"The most pernicious kind of silencing takes place covertly," explained Professor Penelope Stuart, "in institutions that purportedly empower women. They attribute the act of silencing exclusively to the other, so they take no action to improve."
"The silencing is all over the curriculum," concurred Brunhild Borg, a history major. "We read Jean-Jacques Rousseau in almost every course, but nobody ever mentions Jeanne-Jacqueline Rousselle. Nobody even knows who she is."
To gauge the degree of silencing at Circe, the committee distributed a survey. Questions included: "How often do your professors ask you if you'd like to say something? When was the last time a peer or professor asked you how you felt? Can you envision yourself as a world leader? Has your self-esteem increased or decreased over the past three months?" The responses brought pain and remorse to the committee. "Close to fifty percent of students at Circe are living their daily lives unheard and uncelebrated," Borg admitted, her voice shaking. "We as a college cannot stay complacent any longer."
Circe has already begun implementing REAP initiatives. Starting in February 2013, every Monday will be "Meet-a-Woman Day." Students will be encouraged to shake hands with other female students throughout the day. "We grow up with mental images of men shaking hands with each other," said Nancy Ruki, a freshwoman. "We get into the mindset that shaking hands just isn't for us. This will change if we're forced to go out there and shake a woman's hand. So I'm thrilled this is happening. I already feel empowered."
In addition, Circe will take measures to increase the number of female students who talk in class. "Our faculty, unfortunately, have gotten into the habit of calling on students who have appropriated the male practice of raising their hands," Circe president Monique Wishwig informed us. "From now on, in every class session, they will be required to call on at least ten students who do not raise their hands. And no matter what these students say, the professors will validate them." She conceded that some professors had been doing this for decades.
Since a great deal of a woman's life takes place outside of class, students will be encouraged to ask each other, "Have I silenced you in any way today?" If the answer is affirmative, they will apologize formally to the college community, as the silencing of one women is tantamount to the silencing of women overall.
By far the most exciting initiative is Woman Today! Month, scheduled for the first week of March. "Many colleges have a Women's History Month," a student editorial reads. "It's time to move beyond history. We don't need to continue celebrating people we've never met and never will meet. It's the women of today who should be celebrated." During Women Today! Month, classes will be cancelled; the main auditorium will display a round-the-clock photo collage of students and staff, and there will be ongoing speeches by today's women.
Wishwig predicts that admission to Circe will become much more competitive in the near future. "Our new brochure states explicitly that we're interested in women applicants," she told us proudly, "not just because they're women, but because, as women, they have so much to offer that has been undervalued by society—even by Circe, sadly." The apologetic tone, according to Wishwig, should impress the millions who have been disheartened by society's self-justified and obsolete attitudes. "Women around the world are yearning for an apology, for something new," she said, "and Circe's brochure features both novelty and contrition." If the college admits more women than the dorms can house, Wishwig said, it will set up interim tents. "Far better to live outdoors where you have a voice," she explained, "than indoors where you have none."