by Diana Artemist
Satellite Correspondent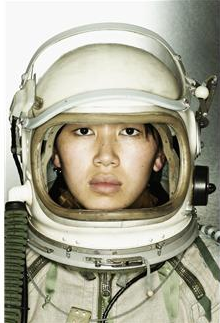 Inspired by the success of MOOCs throughout the world, a new and campus-free concept called "Luniversity" promises to further revolutionize what was once called "higher education." Vowing to replace that notion with "highest education," Luniversity offers a lofty idea of what it means to be educated in a 21st-century society.
"We're going to shed real light on what a college can do," self-proclaimed Luniversity president Lennard Scott texted from his backyard space shuttle, also known as the rusted out car behind his garage. (This information was verified through his eight-year-old son, who said: "It's time for Daddy to stop pretending and come inside.") Scott shook his head vehemently, "no," rattling the gardening bucket he wears on his head as a helmet. He added that although he was expelled from a leading online program for thinking "too far out of the box" (missing drop-box deadlines for completed papers), his concept of "highest education" will attract followers, that is students, eager for a new educational paradigm.

Scott is the former president of Garden State Technical College, a highly-ranked university known for its innovation and high-quality graduates. Scott was asked to step down when the GSTC board of trustees felt he moved too slowly in creating massive, free online programs. According to insiders, Scott had raised concerns about low completion rates and admissions standards associated with MOOCs, and he allegedly lost his mind when pressured to design a program that could compete with MIT's program.
"I already put my idea out there on Twister," Scott wrote, referring to a competing social media tool to Twitter he created himself. "I have attracted 10,000 followers, six 'Favorites,' and miscellaneous cranky posts – typically sour grapes from people stuck in their own backyards or marooned with MOOC madness. On the whole, the response is encouraging. Campus-free, textbook-free, tax-free. Luniversity will be the first of its kind."
Pressed for details, Scott shared that the entire curriculum will be delivered by Twister, a minimally invasive text tool least likely to be scrambled by competitors eager to crack the fledgling college's winning formula. Students will relish the chance to write the shortest papers ever, 141 characters or less ("that's the Twister advantage," he said), with no points taken off for grammar or punctuation or even spelling.
In fact, since fast is the name of the game at Luni (fast admissions, faster instructional delivery, and fastest graduation rates), students who write briefly and carelessly will soon rise to the top of the heap and may even levitate into outer space, Scott predicts.
"In fact, our team dedicated to recruiting students is tentatively called the 'luni moths,' " he said with an evil grin. "I won't be hiring real scientists or fussy English professors to contradict me."
Garden State Tech has made a public statement that it will sue President Scott for violation of intellectual property policies.

"These ideas were developed while Mr. Scott was still in our employment," said board president Wendy Burton. "We own these ideas about open-source learning and we'll control every bit of an knowledge that's ever shared."
"Im goin there," wrote high school senior Laura Lumpton on Twister from an undisclosed location. "Thatz the skul fr me."
"Ditto," replied Jok Jones. "More time2 wk out."