by Monty Tufnel and Henry Wenslydale
Freelance Humorists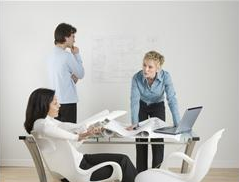 Access College in Cordon, Arkansas, finds itself at the center of a controversy, one with no readily apparent solution. Even though the semester started several weeks ago, one class has still not met in person. At the heart of the issue are competing ADA accommodation requests filed by a student and the assigned faculty member respectively.
John C. Fields, Esq., Access's legal spokesperson released the statement, "While the college cannot address individual cases, we want to reaffirm Access College's commitment to consistently providing swift and appropriate resolutions to all valid ADA requests in accordance with state and federal laws."
Clarisse Pickens, a health information management major at Access, has identified herself as the student in this case.
"Because of my ADHD, I've requested to sit within five feet of the board and the teacher," said Pickens. "It seems the professor has requested that there are no students within ten feet of her or the board."
According to the Access website, the professor of record for the course is Dr. Andrea Umbrage. When contacted, Dr. Umbrage stated, "For years, I have suffered panic attacks from students sitting too close to me and as the students got more anxious, I could feel them crowding me more and more. This fall, after I was diagnosed with Social Anxiety Disorder, I immediately filed my ADA request."
Both parties have taken hardline stances when asked about the dilemma.
"It has been proven that I need a very controlled environment to be successful," said Pickens. "I have my note-taker sitting next to me, and I follow along with the professor, making sure I can see and hear every nuance of the lecture."
"I've been working with the college administration for years on this," Umbrage said. "I've used both an academic freedom grievance and an instructional research design proposal to secure accommodation. Now that it's finally so, I cannot back down. I've worked too hard for this."
Why hasn't Access been able to find a solution given the college has known of this potential conflict for months? According to Lawrence Tucker, from the American Institute for Disability Association (AIDA), "It appears the normal solutions to such a problem aren't available to the college in this case. With just ten students in the program, this is the only section of the class that will run all year. This is the only class Ms. Pickens needs to finish her degree. Dr. Umbrage is the only credentialed faculty member at the college and the faculty's collective bargaining agreement states that only tenured faculty can teach capstone courses."
According to an unidentified source within the college, Access has investigated other options, ranging from consulting with architects and interior designers about how to arrange the desks, to using technology to project Umbrage via hologram. None of the various suggestions have been cleared by the Access legal representatives. The physics department, currently working with the military on sniper cloaking technology, has even offered to beta test their ghillie device – the Demiguise 2000 – using Pickens, however, at this time they are still awaiting IRB approval.
While awaiting an acceptable resolution, Umbrage has been posting assignments to the learning management system and students are being told they will be notified as soon as class can be held in a classroom.
According to an unnamed top administrator, "We'd just throw the rest of the class completely online, but CAHIIM accreditation standards won't allow it."
Other students in the class seem to be taking the controversy in stride. According to sophomore Jarrod Rollo, "I didn't even know the semester had started yet."