by Leah Wescott
Editor-in-Chief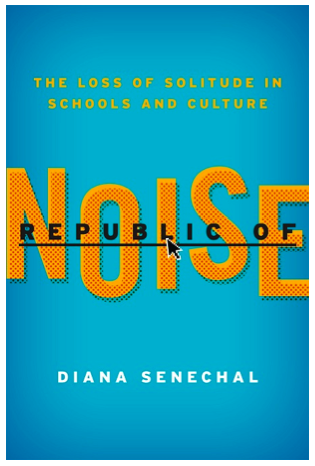 Join us this Friday February 22 at 3:00 p.m. EST when we talk to author, humorist, musician, poet, theater director and academic rogue Diana Senechal.
Diana's award winning book Republic of Noise: The Loss of Solitude in Schools and Culture challenges modern trends toward group work without individual reflection and one-size-fits-all learning outcomes. Sounds good, right? Except, if most teachers are honest with themselves [this writer included], we may just find she's challenging most of us in education to be different – and a hell of a lot better – which can only be done with the courage to dismiss today's gurus and think for ourselves.
As a humorist, Diana's work is caustic and hilarious. As an editor, I read her stories as prophetic science fiction. It didn't surprise me when on one occasion she wrote a story for The Cronk the same week an identical real-life event jumped out of the headlines.
I'm ready to be humbled, entertained, challenged and charmed by Dr. Senechal. Tune in to join the conversation and the solitary revolution.
Friday February 22
3:00 p.m. Eastern Time
http://www.talkshoe.com/tc/124369
Read more about Dr. Senechal at DianaSenechal.com.