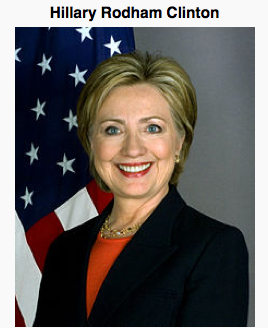 The American College Administrators Association issued a ban of recently-resigned Secretary of State Hillary Clinton, citing her as a poor role model for today's professionals.
"Ms. Clinton was one of our strongest role models back in the days when we adhered to a philosophy of pursuing passions," said ACAA president Margo Channing. "Those were different times, when we weren't aware of treating ourselves as whole people."
According to ACAA's statement, Clinton's habit of cramming her schedule, traveling non-stop and taking too few yoga classes made it clear that the former first lady did not take life/work balance seriously.
"It's like she's mocking us as women and as professionals," said graduate student and ACAA member Selma Rivera. "I wrote her a letter once asking her to reconsider her behavior, but I got a reply that was all about 'I love my work' and 'I can't imagine ever doing something as meaningful as this.' It was so insensitive."
"Yeah, sure, she resigned to 'take time for herself,' but it just reinforced the stereotype that feminists aren't as strong as men," said college admissions officer Dana Watkins. "I can't respect a quitter."
According to Clinton's camp, she is disappointed that she will not be able to attend the conference.
"Ms. Clinton has always taken education very seriously and looks fondly on her days at Wellesley when she was empowered to believe she could pursue any dream she had," said a representative. "She appreciates ACAA for showing her that that times have changed – and she's making changes to show her good will."
The representative said Clinton is considering starting a Facebook account where she can document each of her morning jogs and use Instagram to post pictures of her salads.
"That's a good start, but I'm skeptical," said Rivera. "I heard a rumor that she wants to start a foundation to build schools, wipe out hunger and advocate for human rights. This is exactly why she was such a bad role model to begin with!"