by Kara Sumter
Freelance Writer (Debut Story!)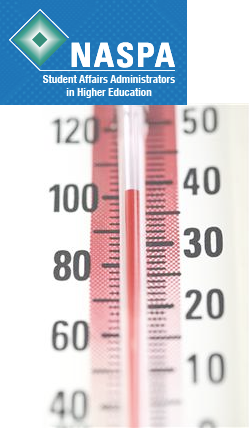 After hustling through the convention center and pushing their way through the crowds of student affairs professionals and chatty graduate students on this afternoon, a group of National Association of Student Personnel Administration conference attendees have all agreed: it is just way too hot in the session rooms.
It has been reported that the first complaint came from a guy in the back row. Sources confirm that his statement was brought on when he realized the water cooler in his workshop room was empty.
It was another woman, however, who walked into the session just in time to hear the guy in the back row's frustration. According to her, "Sheesh…it sure is!"
This unidentified woman is acknowledged by many as the Patient Zero of the NASPA conference temperature crisis. After the group complained more, there was a push to have the presenter confront someone about the problem. The group soon realized the presenter was distracted, setting up her presentation and organizing handouts, and the victims were on their own for the next 60 minutes.
Sources confirm that some people in the room thought the temperature was comfortable, but chose not to speak up for fear of what the others might think.