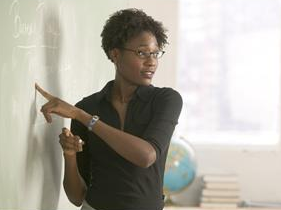 Behemoth, NY—At Omega Universal Institute (OUI), faculty unanimously voted to welcome "talent coaches" into their classrooms. These coaches would evaluate their teaching against a checklist to ensure that it conformed to the latest practices. Professors would then reflect on their evaluations and pledge to improve by a given deadline. In addition, they vowed to speak about these coaches in glowing terms, thus demonstrating their willingness to be taught.
"I am in awe of this initiative," said Nancy De Acuerdo, a professor of psychological philosophy. "Even though the coaches aren't scholars themselves, they come well armed with the latest—which in itself deserves a bow." She pointed out the Venn diagrams and homework checklists adorning her wall. "The classroom is now organized for learning," she said. "As soon as the students walk into the room, they know that learning takes place here, and they know exactly what they're supposed to do. No doubts, no uncertainties, no hesitation. To work."
"I discarded my entire syllabus," said Percy Langeschott, whose legendary course on Chaucer has been overenrolled since its inception. "If I were to cling to Chaucer, I wouldn't empower the students and I'd lose points. I want points! I've been living in poverty, and I want prosperity!" Langeschott plans to open each seminar discussion by asking students what they wish to learn. "Chances are, they'll want to learn different things, and then I'll put them in groups and get more points," he explained. "Then all they'll have to do is outline a strategy for learning, and they'll get their points too. To make it even better, I'll have a video camera in the room, so that we capture the deep interactive cognition going on."
"I actually met my talent coach," said an anonymous professor, "and we had a great session. She told me how to start a lesson. I'm supposed to address my students as 'experts' and remind them of what they did yesterday. Then I will tell them the goal for today. Then I will ask them what they want to do and arrange for them to do it. But at the same time I will make sure that the day's goal is accomplished. That's easy if it's generic enough. I don't think my coach minds generic things—she'd much rather have a strategy lesson than a lesson on, say, oh, if I said it I'd give away who I am, so let's just leave it at that."
Jerome Bruno, a surly sophomore, detects mockery in the eulogies. "You've got to be f—ing kidding me," he said. "Langeschott dumping Chaucer? That would be like the Dead Sea getting rid of its salt." He plans to take the course, because, after all, "I've got nothing to lose and everything to gain. It's like Pascal's Wager. If I take the course, and it's really about Chaucer, then I will have gained infinity. If it's about some goal-setting strategy, then I've only lost those few hours a week that I staked. If I don't take the course, and it's about Chaucer, then I've lost infinity. You get the idea. I'm signing up."
Langeschott retorted that Bruno's reasoning rested on false premises. "The goal-setting strategies are wonderful," he said. "There's nothing I'd rather teach. You can search the classroom high and low—you won't find a Nun's Priest's Tale or anything close. I got my forward—that is, I know what I've agreed to." (We did search the room; when we asked about a locked closet, Langeschott said that it had been locked for years and that he didn't have the key.)
Josie Herhal, a talent coach, expressed delight over her new opportunities at OUI. "It's great pay and a great job," she said. "I bought a whole new wardrobe and a condo, and I'm improving instruction." Her spacious apartment overlooks the college and Leviathan Lake; her prodigious flat screen allows her to scrutinize the details of the classroom videos. "See. that student just asked another student a higher-order question," she noted proudly, sipping her margarita. "I get my bonus. Professor gets a point."
—
Diana Senechal is the award winning author of Republic of Noise: The Loss of Solitude in Schools and Culture.