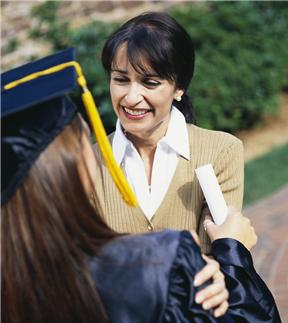 When PhD candidate Amy Windsor crossed the stage for her hooding Saturday, Cal State Venice faculty advisor James Oly couldn't wait to hug his star pupil.
"We did it! We really did it," said Oly of the development of the first advanced degree ever awarded in Undecided. "I always knew there was an important intellectual niche to be filled in higher education and I filled it."
Curriculum experts from around the world expressed skepticism about a viable Undecided program, but research in the Journal of Generational Anthropology showed increasing evidence of a flexible major that met the needs of Millennial-general undergraduates who wanted more options than simply a career or community service.
Windsor enrolled as soon as she heard about the program.
"I earned a B.S. in Multi-introductory Studies, which I designed myself, but I felt smothered by all the pressure to meet accreditation standards and something called benchmarks," said Windsor. "When I interviewed for jobs, I realized something was missing. Something enormous."
According to Windsor's application essay to Cal-Venice, when she sat down to interview with employers, she talked about her passion for learning, passion for kittens, passion for good coffee, passion for shoes, passion for a nice apartment, among other passions, but she didn't have experience digging deeply into her interests.
"Cal-Venice was like an answer to my prayers," said Windsor, who self-identifies as a non-denominational secular spiritualist.
"We can't wait to see Amy in action," said Oly. "She has ambitious plans to become a political lobbyist for the issue of adding an 'All of the Above' option to voting ballots. If that doesn't work out, she may publish her own vegan-porcine cookbook. With her new credentials, the options are endless."