by Con Chapman
Lifestyles Editor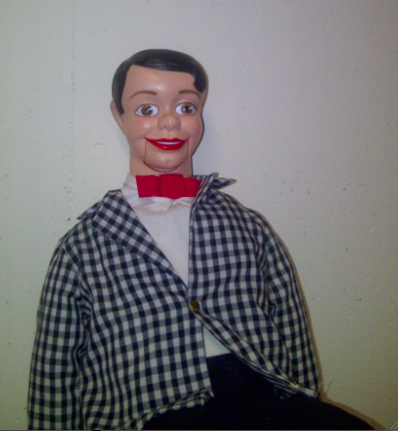 CHILLICOTHE, Ohio. Graduation day is drawing near, but students at Waldmore University here aren't the only ones who'll be wearing black when the time comes for sheepskins to be handed out: there will also be a large contingent of uniformed policemen present to protect the commencement speakers, particularly Marvin Kagler.
"We had a potentially dangerous situation last year," says Dean Norbert Morton. "Whenever you invite a captain of industry such as Mr. Kagler to speak to a liberal student body there's a risk of embarrassment, but we were totally caught off-guard."
Kagler is the founder of Midwest Flange & Hasp Works, and the business school here is named after him in recognition of the millions of dollars he donated to build a campus for it along the Scioto River. "It's for a good cause," Kagler says with a self-effacing chuckle. "Anything to keep the money away from my first wife."
A number of students rushed the stage last year when Kagler began his annual address, a collection of hoary bromides that usually induces widespread napping in the audience. But it wasn't a protest against the 1% by students crushed by the weight of student loans; instead, it was desperate job-seekers, trying to get their resumes in Kagler's hands on the off chance he might have a minimum wage job for them.
"I've filled out probably 500 applications," says Donna Zuk, a puppetry major who brought her ventriloquist dummy "Sparky" down front to plead for a job on her behalf. "Please hire Donna, Mr. Kagler," Sparky said as Zuk barely moved her lips. "If she doesn't eat, I can't talk!"
Officials at other schools compare the willingness of unemployed graduates to prostrate themselves before business speakers to devotees of Krishna who are crushed beneath the wheels of the juggernaut at Hindu religious festivals. "These are kids who are so hung over on Sunday mornings they couldn't find the chapel with a map," says Lynn Mynta, provost of Fullerton College in Tarkio, Missouri. "And yet they bow down and worship Baal in the form of a middle-market widget manufacturer."
For his part, Kagler says he tells students to stay upbeat and not to let their current bleak financial situation get them down. "Most of these kids are highly employable," he says with the firm manner he uses to command a $100 million company. "Or at least they were before they went to college."