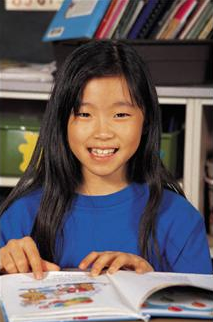 Seattle, WA—In order to make room for its new social centers, collaborative learning centers and conference rooms, the library at Botard College has discarded most of its volumes and updated the rest.
"Our student workers have done a heroic job of rewording hundreds of old books for a global society," said President Gene Verstand. "We eliminated all hurtful words, so that anyone coming upon these materials would feel accepted."
For instance, the word "black" has been changed to "African American" across the board. "Some people still say 'black' in conversation," acknowledged Verstand, "but as an institution, we're taking a step beyond that." Thus, Macbeth utters inoffensively:
There's comfort yet; they are assailable;
Then be thou jocund; ere the bat hath flown
His cloister'd flight, ere to African American Hecate's summons
The shard-borne beetle with his or her drowsy hums
Hath rung night's yawning peal, there shall be done
A deed of dreadful note.
"The meter doesn't scan," complained Eustace Luister, an English major. "Besides, I don't see how the shard-borne beetle is going to hear a summons coming from all the way across the Atlantic. It isn't even supposed to be night over there yet."
"There are a few logical glitches, to be sure," conceded Verstand, "but we have to bear with them as we acclimate ourselves to the new mode of speech. The benefits are immense." He proudly pointed to Stendhal's novel The Native American and the African American, now a staple in U.S. history and sociology syllabi. "That book was just languishing on the shelves until we fixed the language," he said. "Now it's all over the place. I haven't read it yet, but I'm thinking I should."
Verstand showed us another Shakespeare example, this time with "gay" in the original. "Not all gay people are gay per se," he pointed out. "We have to broaden the scope. I know, it disrupts the meter, or whatever you call it, but we'll just have to get used to that." He placed Sonnet 146 under the lamp so that we could admire its inclusive words:
Poor soul, the centre of my sinful earth
Fool'd by these rebel powers that thee array,
Why dost thou pine within and suffer dearth,
Painting thy outward walls so costly LGBT?
"I'm not crazy about that," broke in one of our reporters. "Isn't that suggesting that LGBT people spend a lot of money on their appearance?"
"It's a stereotype, yes," answered Miranda Futile, the 21st Century Librarian, "but sometimes we have to face stereotypes in order to overcome them. In the old version, the word 'gay' might have been taken to mean 'bright' or 'colorful.' What we get here is a head-on confrontation with the ugly world of prejudice. It's also more team-oriented, since it includes more people under a single umbrella."
In order to maintain a positive, team-like atmosphere, the student workers eliminated all reference to death, the first person, and gender, changing As I Lay Dying to As We Lay Napping, and Death of a Salesman to Challenges of a Salesperson. What did they do with Donne's sonnet "Death, be not proud"? "We ended up tossing it," said one of the students. "Basically we found ourselves fiddling with it for hours, and then we were like, 'Who's going to read this anyway?'"