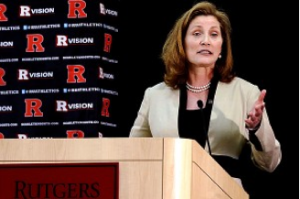 Rutgers University has apologized for its mishandling of the recent closely-watched Athletic Director hiring process. In a press conference yesterday President Robert L. Barchi explained.
"We hired Julie Hermann because she's the exact opposite of Mike Rice – because she's a woman, see. But she is an exact fit for the fine tradition of Rutgers Athletics," said Barchi.
Rice was fired from his basketball coaching position after videos of his abusive behavior toward players was revealed this spring. Athletic Director Tim Pernetti also lost his position after it was revealed he had unsuccessfully appealed to Barchi to fire Rice months earlier for that same behavior.
After Hermann's hiring was announced, media revealed that she had been involved at the center of a sex discrimination lawsuit at Louisville. She is also alleged to have mentally abused her players when she served as volleyball coach at the University of Tennessee.
According to President Barchi, Hermann was not Rutgers' first choice A.D. candidate.
"Personally, I wanted to hire Bobby Knight," said Barchi. "I don't know a lot about his coaching history, but his Applebee's commercial is a real hoot. When he turned us down I didn't pay much attention from then on. I have to empower my staff to do their jobs."
"They'll figure it out," said New Jersey Governor Chris Christie, who has for the second time chosen not to intervene on behalf of the state university system. "I am heartened to hear that Barchi is considering holding an athletics fundraiser starring Chris Brown to kick off homecoming. That will put everyone in better spirits and deflect attention away from our constant scandals."