by Con Chapman
Lifestyles Editor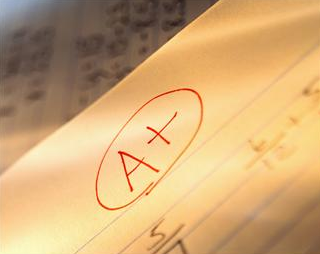 KALISPELL, Montana. It's the final exam for Professor William Isacharoff's section of "Introduction to English Literature," a survey course taught by four instructors each semester at Western Montana University because it is required for graduation. There's only one student in the capacious auditorium, however; Kenny Scalzo, a young man perennially on academic probation due to his indifferent study habits. "My mom wanted me to go to college," he says with a cavalier air. "I know I'll end up working for my dad's real estate business, so why bother trying?"
Together, student and professor form an unlikely duo in the lonely fight against grade inflation at four-year colleges where 43 percent of all letter grades are now A—or better.
"There's a guy at Harvard who gives students their official grade for the registrar and a 'real world' mark that is substantially lower," notes Isacharoff, referring to Professor Harvey Mansfield. "Frankly, I consider him a wimp."
Scalzo not only doesn't care what grades he gets, he tries to keep them artificially low to discourage his mother from pushing him to law school. "If I become a lawyer I'd have to wear wingtips and a tie," he says with a look of concern. "My dad goes into work wearing flip-flops and gold chains, which I find much more tasteful."
Isacharoff is an unforgiving instructor who marks students down one letter grade for each class they miss. "Some kid tried to pull the old 'My mother died' gag on me last week," he says with a disdainful snort. "I told him I was gonna buy a big box of Kleenex and cry my eyes out his story was so sad."
Together, slacker and professor are hold-outs in a culture where students vote with their feet, afraid to risk their futures with an academic who might actually teach them something but would be less user-friendly than others. "We're like those Japanese soldiers they'd find in caves long after World War II was over," Isacharoff says wistfully. "Other people may take the easy way out and surrender, but I'm going to fight on until we conquer UCLA."
As the exam ends Isacharoff walks out and sees Prof. Daniel Blatner, a notoriously easy grader who won this year's Most Popular Professor Award. Blatner is carrying a stack of exams with difficulty back to his office, but stops to chat up Isacharoff. "How's that 'hard-ass' grading going, Mike?" he asks smugly.
Isacharoff holds up a single blue book between two fingers and says simply "Works for me."