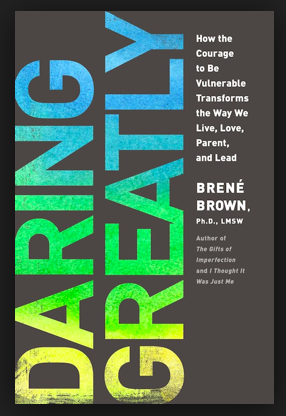 If you missed last night's book chat, we hope you're not feeling too much shame. We encourage you to check out the discussion transcript and consider joining the Great Darers
inspired by Brené Brown.
Thanks to Irma Pelt for her triumphant return to the hosting chair. She introduced the book club idea in 2010 and it's become one of our favorite traditions at the Cronk. Oprah is great, but this is the first book club I've ever joined that had over 100 participants.
If you have any requests for future books to include in our reading list, we'd love your ideas. The books should have relevance to education, leadership and include a modicum of humor.
Previous book selections:
2011 – Bossypants by Tina Fey
2012 – The Unlikely Disciple
by Kevin Roose
2012 – Drive: The Surprising Truth About What Motivates Us by Daniel H. Pink. (We were really ambitious that year, thanks to collaborators at the Student Affairs Blog)
2013 – Daring Greatly by Brené Brown
Special thanks to the Student Affairs Collaborative and the twitter gang at #sachat, including Julie Larsen, for continuing to promote shared learning in creative ways.
See you next year!
~Leah Wescott, Editor-in-Chief