by Jeffrey Ross
Freelance Temporary Housing Expert
Copperfield Community College saw its recent North New Mexico property acquisition burn to the ground last week. CCC purchased the iconic sixty-five-year-old Hamilton County RV Park last April for $6,000,000, amidst controversies about the property's actual value and the well-being of long-term park residents.
CCC's residence life staff had planned to use the trailers for temporary overflow student housing and to celebrate transient habitat-specific cultural diversity.
Newly-homeless park residents were angry with the college. Tensions had been growing between CCC and the RV residents, who were evicted to make room for CCC students.
Sol Davies, spokesman for the victim-residents, alleges the college "intentionally started the fire to intimidate senior citizens who lived in the RV park. CCC wanted us old-timers out—and probably thought burning down some trailers would speed up the process. But the fire went crazy. Idiots!"
No injuries were reported in the overnight five-alarm blaze, although 33 trailers and motorhomes were destroyed, along with a National Historic Registry-listed cinder block recreation hall/laundromat, which housed two 25¢-a-load avocado-themed washers and a Teem pop machine.
Fire Chief Bob Zontarg suspects arson, but no arrests have been made. "We have no leads, but several whacky characters live in the park – and even more work at that college."
College President Philip Dolly said he hopes to bring healing to Hamilton City.
"We are very distressed," said Dolly. "Certainly our institution played no part in this unfortunate tragedy. CCC has been a smoke-free campus for a year. Matches and lighters have been prohibited on campus. One of the RV park residents must have ignited the place by carelessly smoking tobacco or medicinal marijuana."
"Let the healing process begin," added Dolly. "Our prayers go out to those park residents who have lost homes and livelihoods. Yet, in some small way, as we begin the rebuilding process, perhaps social justice has been served."
Dolly has called for a complete investigation by local, state and federal agencies.
"We are one Copperfield, one Hamilton City, one RV park— a diverse but vibrant community committed to a focused mission and a strategic plan. Our partnerships must be nourished by a commitment to provide inexpensive yet sustainable housing for students."
Dolly indicated he will assign CCC staff to help the former park residents reassess personal mission statements and strategic goals for their future lives and life-long learning activities.
Dolly further indicated Copperfield has opened the college's gymnasium to 42 homeless former park residents. CCC will provide cots for sleeping and two ravioli-flavored Meals-Ready-To-Eat twice a day.
William Henry-Ireland, the college's public information director, said the former park residents would be asked to leave the gym when CCC begins classes next week.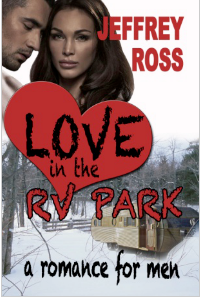 [Based on characters and events from the novel: Love in the RV Park: A Romance for Men (Rogue Phoenix Press, September, 2013).]