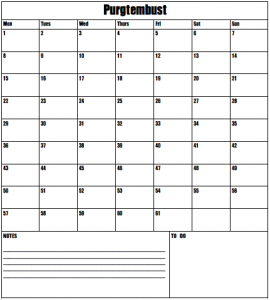 by Chris Maire
Freelance Humorist

North Adams, MA – In a recent move many call shocking Berkshire University administration has taken it upon themselves to spit in the face of the Gregorian calendar and move from a 12 month calendar year to a controversial 11-month model.
"It just seemed silly for us to acknowledge September and August as two different months when we're all here around the clock," reported Associate Dean of Students Larry Bridges. "In a cabinet meeting it was deemed appropriate to combine the two and this has been represented in all university calendars, both academic and activity."
The new month called "Purgtembust" is described by university officials as "one half September, one half August, and one half Purgatory." The Math department would not comment on the use of words. The 61 day entity has also brought about changes to the week and day structure.
"Without going into too much detail we went ahead and broke this typically eight to nine week period into three super weeks consisting mostly of Mondays and Thursdays and the occasional Sunday," Bridges explained. "We wanted the calendar to represent just how trapped we all felt."
"I think the change has been really good for morale here in Housing," said Director Ted Labonte. "I just feel right going to work and having the calendar legitimize my feeling of every day being the beginning of the week."
At time of release cabinet members were meeting to discuss the possibility of "Mayprell."