by Anselmo Watkins
Freelance Writer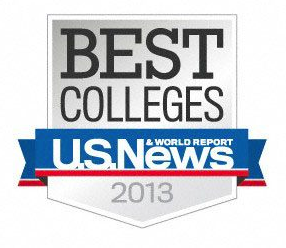 For three decades, the U.S. News and World Report Best College Rankings has served as a source of information for high school seniors and their families trying to choose a college, and a source of heartburn, headaches and sleepless nights for deans, faculty members and administrators whose employment and future success hinge on solid rankings.
The latest edition marks the last go-round for the venerable survey, which has been threatened in recent years by the demise of the print media and the arrival of new surveys that acknowledged the existence of schools outside U.S. News' 300 or so traditional go-to schools.
"For 30 years, our survey has served as a popularity contest in which administrators from 'old guard' universities scratch each other's backs by ranking each other highly," explained Senior Editor Biffy Rowena-Edgar. "As a result it's the same schools, slightly shuffled around, every year. Makes it easier for us."
"But everything has to change, eventually," Rowena-Edgar added.
With the appearance of several other news magazine and Web-based polls, the U.S. News publishers decided to make some changes to keep their poll fresh and edgy.
"Washington Monthly really threw us for a loop when they started ranking a bunch of 'who are they?' colleges using categories such as 'social mobility,'" Rowena-Edgar said. "These are the sorts of categories that we have been told some young people care about. If we want to keep our credibility and sell ridiculously expensive display ads in our publications and on our website, we had to change with the times.
Included among the new categories are:
Through a partnership with the website RateMyProfessors.com, the survey will now include a "PILF" category. The acronym, which stands for "Professor I'd Like to Fornicate with," will be a gender-neutral survey of active faculty who have received a "chili-pepper" rating on the site.
"In the spirit of diversity, we will not cast judgment on gender or sexuality," Rowena-Edgar said. "We just want to know if your English professor is someone you would like to get with after an evening of discussing William Butler Yeats."
A new "fun" category that will give extra points to schools with features that "improve the student non-academic experience," including indoor climbing walls, lazy river aquatic facilities, wave pools and skate parks.
"It used to be that just having a pool was enough," Rowena-Edgar said. "But now, if you don't have a meandering river where students can nap their hangover away, you're behind."
"Brag-ability," which will rate a student's coolness based upon the credibility of the school they attend and the major they select.
"Four years ago, being a political science major from Occidental would have given you mad street cred. Now, you are better off being a math major at Arizona State," Rowena-Edgar said.
The U.S. News and World Report survey, which began in 1983, has a checkered history that is largely unknown due to a general lack of interest about the survey from anyone outside higher education.
For example, in late 1998, then-Editor Ronald Ford-Nixon discovered that the faculty members were using the survey as a popularity contest.
"We had a couple of faculty researchers come in and it became clear that many were compensating for the fact that they had been ignored or shunned during high school and college popularity contests such as student body president and homecoming elections," Ford-Nixon wrote in his memoirs in 2007. "These men and women were geeks and nerds, locked in the library, or more likely duct taped to the flagpole by the football team. This survey was their first chance to show any influence over anything at all, and they took advantage of it."
As early as 1987 anecdotal reports emerged alleging some administrators from schools looking for improved rankings had begun selling their votes in exchange for grant money, equipment or access to facilities or supercomputers.
"In 1992, Georgia Tech traded time on their brand new supercomputer for votes to rank their engineering school as one of the best in the nation," said one former dean who spoke under the condition of anonymity. "It turned out to be a great investment, because they have stayed in the top five ever since – mostly because people are just too lazy to vote any differently."
"The magazine editors didn't care, because many of these have-nots spent a lot of money on display advertising in the magazine. As long as the checks kept rolling in, the editors turned a blind-eye," the source added.
The editors may not have cared, but they did notice.
"We realized that the only people reading the issue were university administrators afraid to complain, a few reporters bashing out 10-inch stories about how the schools fared and an ever-changing crop of high school and junior college students disinterested in analyzing the year-to-year rankings," Rowena-Edgar said. "So, beginning in 2002, we just took the 2001 numbers, wrote an Excel macro that randomly added or subtracted a few points here or there, then resorted the data. We did that for four years and nobody seems to have noticed. In 2005, we just decided not to bother sending out the survey at all. If anyone called to ask where their survey was, we told them it must have gotten lost in the mail."
Since 2006 the survey has been conducted online, with the results compiled by an independent contractor named "Bruce."
"Bruce just sends us the spreadsheets and we plug them in." Rowena-Edgar said.