by Con Chapman
Lifestyles Editor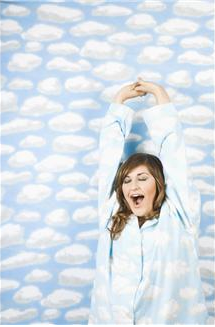 WESTFORD, Mass. St. Rocco's College had been an all-female institution since its founding in the 1920s, but all that changed last year when the school faced pressure from bondholders to increase tuition revenue.
"Nobody wants to go to an all-girls school anymore," says lay President Susan Coffelt. "Or at least no girls do."
So this year St. Rocco's went co-ed, a sea change Coffelt has done her best to explain to nervous parents who sent their daughters here expecting that their daughters wouldn't become romantically involved with men until they graduated.
"We need the extra revenue the men will bring in," Coffelt says bluntly while glancing over her shoulder to make sure no one is eavesdropping. "What I forgot is that young men and women like to have sex, sometimes with each other."
The college scrambled over the summer to put together a clinic that would graduate current female students in a childless state while complying with Catholic strictures against birth control.
"I've had some of these young women in my calculus class," says Professor Anil Slizewski. "I'm not sure they have the math skills to handle the rhythm method," an abstinence-based form of birth control that is the only one approved by the church.
But then the fall catalog from traditional New England clothier L.L. Bean arrived at Coffelt's home and she had a "Eureka!" moment. "Have you ever looked at their women's sleepwear?" she asks, incredulous. "You couldn't get into some of those nightgowns with the Jaws of Life."
So the school adopted what is believed to be the nation's—indeed the world's—only collegiate dress code that doesn't go into effect until bedtime: female students must don a yoke-front, button-up nightgown or pajamas from one of three preferred providers, L.L. Bean, Lanz and Talbot's, all of which have been shown to be effective sex-preventive sleepwear by independent certification organizations.
"China is thinking of using them to control their population," says Professor Margaret Jebso, head of the school's Asian Studies department. "Nothing else has worked, so why not give unattractive PJ's and nighties a shot?"
Male members of this year's entering freshman class don't like the idea, but the deadline has passed for them to reclaim their tuition deposits so most will live with the unexpected difficulty they face in gaining access to nubile coeds' less intellectual gifts.
"As soon as they made the announcement I started practicing origami," says Mike Bedford, a lacrosse player from New York. "I can't risk getting my fingers stuck in one of the eighteen buttonholes down the front."