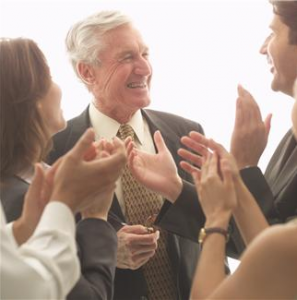 by Anselmo Watkins
Freelance Writer
Lee Roberts, dean of the Dooley College of Business at Manning University in Tennessee is happy to admit that a lot of people think he is "kind of a dick," but that he doesn't pay them any mind.
They didn't attend business school.
He is also happy to say that he is teaching the next generation of business leaders to put themselves and their profit ahead of social well-being and common good.
"Most universities are filled with a bunch of namby-pamby do-gooders who want to save the world, the whales, the environment, underrepresented groups…. stuff like that. And that is fine, I guess," he said. "But business school is for the hard-charging, go-getter types that know that their happiness in life is going to be based on their socio-economic status, and who are willing to walk past – or over – a few homeless people to get there."
Roberts graduated from Dooley in 1978 and founded CWFDR Industries in 1979. He built his fortune primarily by purchasing companies, firing staff and selling the pieces for profit. It is estimated that more than 200,000 people lost their jobs during his tenure at CWFDR, earning him the nicknames "Hatchet Man" and the "Fifth Horseman."
"'Fifth Horseman' was my favorite. There were the Four Horsemen of the Apocalypse: Conquest, War, Famine and Death. The fifth was Lee Roberts," he said, chuckling.
After retiring in 1998 Roberts joined the faculty at Dooley in 2000, eventually becoming dean in 2012. He takes an annual salary of $100,000, which he then donates back to the university.
"It seemed like a natural progression. I have more more money than I could spend in a dozen lifetimes, so why not spend a few years teaching the next generation how to make a fortune at the expense of others?" said Roberts.
At a recent kick-off event for the school year, Dooley students were given shirts that sport the college's new slogan, "Join us now, or work for us later," which was developed following a year-long series of focus group meetings with alumni and supporters from the local business community.
"We wanted a memorable slogan that truly captured our institutional message," said Roberts, adding that the research program cost the university about $2 million.
The slogan has caught on with many of the school's undergraduate students.
"As I walk across the campus, I just feel this sense of power," said sophomore Eddie Fetig. "I look at these English majors, these fuzzy 'thinkers' and just laugh that they are going to be begging to work for me in a position with low salary and no benefits. In 30 years, they'll look back and wish that they had gone to B-school."
Roberts admitted that the business program is not for everyone.
"The best candidates for business school are entitled men and women who are going to inherit a business from a parent or step-parent, or who at least are going to receive a sizable stake that will allow them to get started," he said, adding that extreme arrogance and borderline sociopathy are also helpful.
"There are some people who need to be plumbers, ditch-diggers, maids, middle mangers. I get that. But there are some of us who would prefer to earn our fortunes on their backs and not have to get our hands dirty ourselves. That is what we are here for," he added, chuckling. "Don't forget, we give back plenty through taxes and charity gifts to help us avoid paying more taxes."
Roberts also said while his lessons really don't benefit society much and he's OK with that. "Look, they say money can't buy happiness, but I gotta say I am pretty happy when I'm blowing across Lake Charles on my jet ski."