by Con Chapman
Lifestyles Editor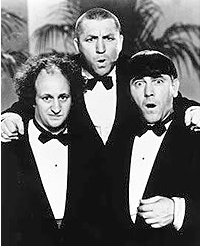 WASHINGTON, D.C. Concerned by a survey indicating that 60 percent of American college students can name the Three Stooges but only 40 percent can name the three branches of the U.S. government, professional educators today vowed a new emphasis on core knowledge students need to succeed in a global economy.
"A twenty-point gap is not enough," said Morris Byrum, incoming president of the American Association of Assistant Deans. "We need to get back to basics that produced universal Three Stooges literacy in the 1950s."
Students at high-ranking public colleges around the country complained that the test was misleading.
"Everybody knows there were more than three Stooges but the question just said 'Name the Three Stooges,'" said Evan Adamik of Eastern Illinois State University. His mother, Mindy, says the family spent over $2,000 on test preparation courses and that she would demand his scores be corrected.
Aaron Lipkind, the researcher who conducted the study, admitted that the format in which the question on the three branches of government was asked may have accounted for the high percentage of correct answers.
"We used fill-in-the-blank for the Stooges question, but for the three branches of government we gave kids multiple choices," he explained. "A, chocolate, vanilla, strawberry. B–legislative, executive, judicial. C–Ruth, Bader, Ginsburg.
Developmental psychologists view mastery of small groups as an essential building block to more complex cognitive skills.
"If kids don't learn the Three Stooges, how are they ever going to move on to the Jackson 5?" asked Janet Hightower, an associate professor at Northwestern University.
Foundations hope to stimulate Stooges studies with competitions similar to those that incentivize mathematicians.
"Einstein's Theory of Relativity predicts that the universe actually contains eight Three Stooges," notes Alton Birdsell, Chairman of the MacGyver Foundation. "We know about the three Joes–Palma, Besser and DeRita–but no one has isolated the Emil Slitka Stooge gene yet."
Economists say mastery of entertainment trivia will become increasingly important as televised quiz shows account for an ever-larger share of the world's industrial output.
"Forty years ago a kid could grow up and get a good job in the steel mills, but those days are gone," says Milton Gelson of the Center for the Study of Depressing Trends. "Today, if that kid can't sing, his only hope is to win American Idol."