by Joel Pettigrew
Freelance Writer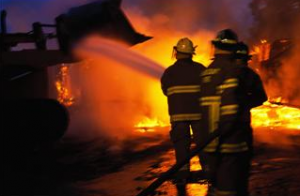 Burnout in student affairs took on a whole new meaning last Tuesday at Brighton University after Assistant Director for Student Activities Jay Meyer spontaneously combusted in the middle of Brighton Bingo.
Meyer, in his sixth year at Brighton and eighth year in the field, was at the on-campus program at 9 p.m. after a full day of meetings when, without warning, he burst into flames while calling bingo balls during the postage stamp round.
Medical staff at Brighton are officially calling the incident a case of "student affairs burnout," that Meyer was simply staying too busy and was not maintaining an adequate work/life balance.
Higher education work/life balance guru and head consultant at Balance Your Life Balance Jess Reynolds chalks the tragedy up to not enough discussion about appropriate work/life balance.
"I can guarantee that if last week's #sachat twitter topic had been 'What scale is best to measure my work, life, and work life?' rather than 'Soft v. Firm Tofu in the Dining Hall,' we could have prevented this combustion."
Brighton students were shocked but not surprised.
"I've been here three years, and this is my second advisor that has combusted," senior Tate Wilson said in a phone interview later that night. "He seemed like a pretty balanced dude. He was here a lot, but he always talked about how Netflix and his couch balanced out this work side of his life. It didn't seem like his work life interfered too much with his life life."
A copy of Meyer's calendar for the week revealed a 3 a.m. Boot Campus fitness class for which he was also substitute teaching at 6 a.m. after staying up until 1 a.m. with his Habitat for Humanity students at their build site in an adjacent county. In addition, Meyer was supposed to attend three separate committee meetings at 2 p.m. the day after he combusted, and was scheduled to appear at three simultaneous awards banquets the following Friday evening.