by Teena Angst
Freelance Writer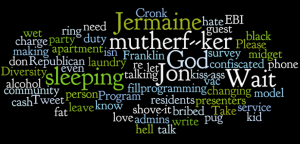 A staff bonding activity in which college staff members were encouraged to report what they were actually thinking resulted in a student staff termination and a horribly vulgar word collage last week. Reports have emerged from Beaumont State University that a Housing and Residence Life retreat tricked professionals into being honest.
Allegedly, during the annual 1st Semester 4th Week 2nd Retreat, Executive Director of Experiential Living Carmel Rodriguez told all staff members, "Just grab any sheet of paper and write down what you are thinking this very moment." According to reports, many staff members felt they were participating in an informal activity since they could write on "any" sheet of paper. According to those present, the instructions were coupled with the phrase "This is a safe space" and the ground rules of the retreat, established during hour one, and which were clearly displayed on the wall, indicated "What is discussed in this room stays in this room."
One resident director, who asked to speak anonymously, indicated, "We had no idea [Carmel] was actually going to collect the sheets so we were all honest."
After the staff wrote their comments, Rodriguez asked two departmental assistant directors to collect the slips of paper.
"It happened so fast, none of us had time to re-write something less truthful," said the resident director.
Following the retreat, Rodriguez gave the written comments to a student worker, asking him to create a word collage for all the professional staff members.
The student worker said he thought nothing of the content he read on the sheets of paper.
"The staff commonly work with programs about race, class, body image, sexuality and sex itself, so I'm used to seeing edgy content," said the student. "It would take a lot to shock me. I just typed up the notes as I was asked to."
Following the creation of the collage Rodriguez is alleged to have called the student into her office and after "coaching him about appropriateness" felt that his constant denial of the creation of the crude collage was grounds for termination. Only after the student requested an investigation by Human Resources, which included the retrieval of the paper slips, was it revealed that he had copied all the slips verbatim.
A copy of the list of "thoughts" and the collage was provided by an inside source and is provided below:
"Program this mutherf***er."
"Her pug is fat."
"I hate guest presenters."
"I confiscated alcohol….for my party."
"Why are the admins even here? We don't know what the hell you're talking about."
"Jon is sleeping with Jermaine."
"Please God, let the duty phone ring so I can leave."
"Tweet this mutherf***er."
"For the love of God, why are we changing the programming model again?"
"Diversity isn't about making the black person talk."
"Wait, is Jermaine sleeping with Jon?"
"Franklin is a kiss-ass."
"I bribed a community service kid to fill out EBI surveys."
"Wait, is that a midget?"
"I'm a Republican."
"When I need cash, I charge residents to do laundry in my apartment."
"Take this wet vac and shove-it."
"I write for the Cronk."