by Jack Snap
Technology Freelancer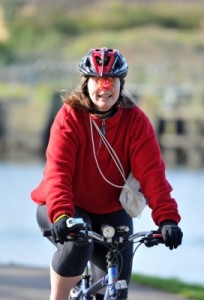 In its continuing efforts to stay at the head of the curve of campus innovation, College of the Northsouth is extending its popular online Certificate in Professional Clowning into an on-ground, adjunct-led circus in Spring 2014.
"We knew that the adjuncts were expert jugglers," said yet-another-interim-president, Jerrold Jurgens. "We decided to test their talents further, and they have risen to the challenge."
"That would be: 'they have rised to the challenge,'" countered campus grammarian Wilfred Wright. "We have eliminated protocol around here, from the top right on down, and that includes outdated verb forms that might make our students feel inferior."
The adjuncts themselves are pleased to have a more visible presence on campus though a few were initially skeptical.
"At first I thought the circus was beneath my dignity," said 40-year adjunct Anna Spiral, who has taught rings around her colleagues for at least 39 of those teaching years. "But then I saw that the circus contract had better terms than online teaching, so I picked up a rubber nose, a bathrobe and a pair of oversized slippers half-price in the bin at a costume store and headed right to campus."
"Agreed," said her colleague Ivan Dusk, who teaches at Northsouth and eight other colleges in the Northsouth metropolitan area. "At least I'm finally getting some physical exercise after driving 3,000 miles weekly on my daily commutes. And students are showing up to watch me perform more regularly – more so than when I had a formal attendance policy."
Adjuncts' tricks include performing amazing feats such as lifting and sorting hundreds of pounds of freshman essays, dragging dogeared texts from the back of a sagging van, jumping through fiery scheduling hoops, and riding on tricycles along with overall-clad chimps also striving to find a vacant parking space.
Even as adjuncts have stolen the limelight as the only teachers left on campus, every other mid-level administrator or student life position has now been replaced by colorful balloons twisted into shapes such as financial aid officers, advisors and campus police.
"I really had fun learning to push the button that puts the hot air into the balloons," President Jurgens admitted. "It beats having to figure out ways to rig searches."
The salaries of top administrators like Interim President or cronies such as Grammarian remain intact.
Thanks to http://www.freedigitalphotos.net for use of photos.