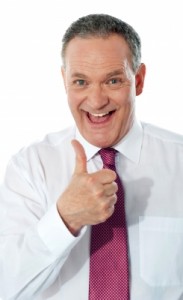 Lokehere, NH—Most American colleges have scrambled desperately for the "perfect" brand, only to find their favorite idea taken. Unperturbed by the strife, Lokehere College managed to grab the "Thumbs-Up" brand before it landed on anyone else's brainstorming list.
"Can't say how we did that," said President Brent Blythe. "I mean, I know how we did it, I just can't say. That's part of our brand, too. We are mysterious and happy."
In a land where the "collaborative team" brand is passé and the "technology-infused" brand a cliché, Lokehere seems to have claimed the last of the big prizes. "Our 'Thumbs-Up' brand is totally in sync with social media," said Communications Strategist Leslie Debout. "Everything out there is either thumbs-up or thumbs-down, but there's no reason for us to be thumbs-down about anything. We've got positivity on our side."
All of the college's clothing, stationery, and other accessories bear the image of a thumb turned upward. In addition, no one on campus may make negative comments of any kind. They must give the thumbs-up to each other, their classes, the food, their lives, and even the Greyhound station. Five of these daily "thumbs-up" must take place online.
"I love the Greyhound station. It's so sweet," posted Shelly Cruise, a junior. "I've never taken a Greyhound bus in my life, and probably never will, since I have a Prius, which is built to last forever. But I think it's really cool that there are still people who buy bus tickets like they're no better than anyone else."
"I'm sort of like Shelly," responded her roommate Blanche Godard, after giving her an online thumbs-up. "I feel really good about the bus station too. Only I don't talk about it much, because I have so many other things to say good things about, like the fact that my professors are all so upbeat about the fact that I'm in their class."
"No one brings as much to my classes as Blanche," said Professor Jude Parley in person, "except for all my other students, who are gifted and original and altogether outstanding."
Romantic relationships, some admitted, were trickier. "It's really hard to break up with someone if all you can say is how great they are," noted sophomore Amy Tvarus. "I mean, that's what people do in real life, but they always follow it by 'but.' Like, 'You're an amazing person, but I don't think this is working between you and me.' We're not allowed to say the 'but.' We're only supposed to say how amazing the person is. And then everyone just ends up confused."
According to reports, the "Thumbs-Up" mandate has brought similar confusion to remedial writing courses. "If I'm only supposed to say good things about my students' writing," complained an anonymous adjunct professor, "why are they in a remedial course in the first place?"
"Such great comments," responded President Blythe. "It is so rewarding to be in a place where people raise questions and exercise critical thinking. Soon they'll realize there's nothing here to question or criticize." To help push the community toward a positive mindset, Blythe ordered the college radio station to stop playing Beethoven, Beach House, and other "downbeat" artists. As soon as he figured out which books and films had depressing themes, he'd give similar directives to the library and cinema. "The only time you're allowed to be negative is when you stub your toe," he said. "Because it happens to everyone, it lasts only a minute, and you can keep your thumbs up even while it's going on."
Thumbs-up to http://www.freedigitalphotos.net for the graphic!