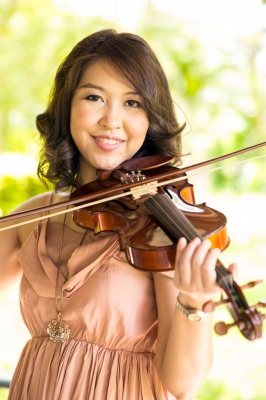 by Leah Wescott
Editor-in-Chief
Senior vocal fine arts major Jane Close received national attention on Wednesday when she crushed the Quinn College recital attendance record.
According to data collected in the Garland Minnelli Memorial Theater, 17 listeners, including Close's parents, grandmother and roommate, sat through Close's 1.5-hour "Variations on Renaissance Ennui" performance.
"Had we known Jane was going to set the record we would have planned a more fitting celebration," said Close's vocal coach Stanislav Henri. "She told us her parents might attend but we were caught completely off guard. My secretary ran backstage and told me the floodgates had opened but I couldn't believe my eyes when I peeked out. We've never broken double digits at a recital before."
"I guess I have a lot of fans that I didn't realize," said Close. "It was pouring rain outside that day so they must have been quite passionate about my music to make their way through the storm. The usher told me he couldn't keep up with the pace of distributing programs and ran out after the first four people came in."
"I can't explain it," said Close's boyfriend Brad Palance. "I have a lot of respect for anyone who came. It takes a special person to appreciate Renaissance depression." Palance chose to speak off the record about his own reasons for attending the recital.
"This is a real turning point for our department," said Henri. "I'm going to photocopy 25 programs for next week's junior recital of Victorian era funeral dirges."
http://www.freedigitalphotos.net is our favorite source of great photos!