by Con Chapman
Lifestyles Editor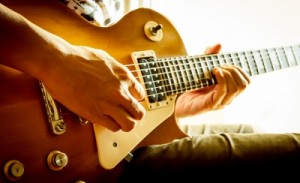 CHICAGO. Bobby Decatur came to Chicago from the suburbs of Boston to hone his guitar skills on the city's South Side, where blues greats such as Muddy Waters and Howlin' Wolf migrated from the Mississippi Delta. "I had my music career all planned out and then tragedy struck," he says. What happened, this reporter asks. "College," he says, referring to the expensive education his parents were paying for at the University of Chicago.
But Decatur learned to improvise through the course catalog the same way he does up and down the neck of his Fender Stratocaster guitar. "I found out you could skip your way to an undergraduate degree like a frog hoppin' across a stream," he says, employing a homely simile of the kind that Willie Dixon, his favorite blues songwriter often used. "Frog goes from rock to lily pad, student gotta go from one 'gut' course to the next," he says, employing the slang term favored by U of C undergrads for a class that requires little effort.
Decatur attended Pringy, a top prep school in idyllic Concord, Mass., where he acquired a solid foundation in science, foreign languages and other subjects that are required as part of Chicago's "Common Core." After "testing out" of first-year courses, he entered the school's "New Collegiate Division" where students create their own program of studies instead of declaring a traditional major. "The rest is history," Decatur says with a sly grin. "And as everybody knows, history repeats itself."
He first wrote a paper titled "Blues as a Religious Experience," which he submitted for an A in an anthropology seminar. He then "re-purposed" the paper as "Blues in American Culture" for an independent study in history, then sailed his monograph under the flag of "Blues as a Semiotic Dialectic" into the stormy seas of structuralism, emerging dazed but still conscious from a Problems in Post-Modern Literary Paradigms course.
Through it all he's maintained a record of perfect attendance at local blues clubs four nights a week, and is now just one semester away from earning a bachelor's degree without ever having written a paper on a different subject.
"I like to think I'm carrying on a great cultural tradition," Decatur says as he replaces a B string, and Jed Limpf, his faculty advisor, concurs that the blues is one of America's great gifts to the world.
"Not that tradition," Decatur corrects him. "I meant the tradition of doing no more than is absolutely necessary to get out of college."