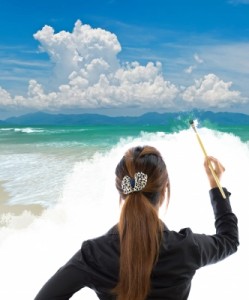 Thinking of taking a class in art history? Think again. A newly formed Committee for Higher Education Reform (CHER) has proposed to replace subject-specific college courses—throughout the U.S.—with mini-workshops on strategies. There will be no more art history, engineering, physics, or Near Eastern languages, just strategies for success. According to experts, it's about time.
"We're spending too much money on stuff we don't even understand," said Eugene Glup, chair of CHER. "I opened up a college catalog the other day and saw something about a Vermeer. What the heck is a Vermeer, and why should we spend time and money studying it? We need kids to learn things that everybody can grasp. Moreover, we need to get some of those eccentrics out of here. Strategies appeal to normal types."
According to Glup, the proposed strategy workshops require no knowledge of anything much. "They teach you how to summarize, predict, turn and talk, that kind of thing," he said. "Skills you can use anywhere, no matter where you find yourself." He praised the "turn-and-talk" strategy in particular, stating that "when you don't know something, the best thing you can do is talk about it."
Education experts report that strategy instruction has dominated the K-12 schools for decades. "There are good reasons for this," stated an immensely influential consultant who requested anonymity. "First of all, who are we to tell children what they should know? That would take breathtaking audacity. Second, this new reform should be a good kick in the butt for hoity-toity intellectuals who think they can spend their whole lives teaching about waveform matrices and other useless things. Me, all I know about waveform matrices is that they don't sell them on Amazon, and I probably wouldn't want one for breakfast."
Strategy instruction at the college level, according to Beltway insiders, would reinforce and reward strategy instruction in grades K-12. "You've got some stubborn teachers out there who say that kids should be reading Cervantes because Cervantes is good," said another anonymous source. "This initiative does away with that. We're not saying anything is good here. We're just showing kids how to deal with what's set before them, especially a test."
Under the proposed plan, every matriculating college student would receive a "strategy binder" full of graphic organizers and an iPad loaded with weekly strategy quizzes. Every week, they would show their strategy binder to a strategy adviser (real or virtual), take the strategy quiz, and then find out from a cartoon character whether they were ready to progress to the next strategy level.
"There's no judgment involved, and I like that," said Marian Stepany, a high school senior in Memphis. "I can stay on the same strategy all year, if that's what I need. The main thing I have to do, along with the rest of the nation, is change my mindset. I have to unthink music, calculus, and French, and double-think finding the main idea."
Many professors resist the new strategy emphasis because it means they're out of a job. "Yes, even here in the ivory tower, we've got mercenary interests at work," said an HR official. "It's sad, but lots of people in this profession get a feeling of entitlement. What they don't understand is that they can stay if they give up their courses and 75 percent of the pay. After all, to learn a strategy, you don't need some brainy expert standing in front of you and going blah blah blah."
In the future, according to economists, undergraduates will graduate in six weeks, not four years. "Of course, people will return to college throughout their lives for refresher workshops," said Glup. "We call this lifelong learning."