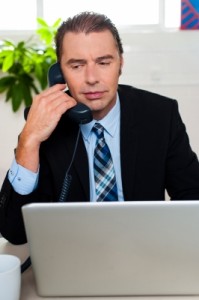 by Leah Wescott
Editor-in-Chief
Vincent Hauser, newly-appointed dean of academic services at the University of West Kansas has decorated his office and met all his staff. He now waits patiently to meet with Vice President of Academic Affairs Jennifer Moguesly so he can learn his opinion about a number of controversial issues facing the campus.
"I can't wait to learn what I'm thinking," said Hauser. "The campus is facing serious budget cuts and a potential overhaul in the curriculum and as soon as I'm briefed about how I feel about each issue I'll be able to hit the ground running."
"Dean Hauser has proven himself fully capable of keeping us in suspense," said Jon Barnett, chair of the faculty senate. "Each time we've asked him for his vision and goals he says he just needs a little more time to fully understand."
Vice President Moguesly is currently on maternity leave and the university expects that she will remain out of communication for the next two months. It was expected that Hauser would act in a quasi-interim-VP role in her absence.
Hauser, who holds advanced degrees in organizational leadership and analytical conceptualism, is excited by the potential of his new role.
"As a leader, I can't wait to inspire our faculty to be as exceptional as they can be," said Hauser. "In the meantime, there's a lot we can get done to halt any changes until Dr. Moguesley returns. I can provide a lot of guidance to help slow people down and design new forms to fill out to keep everyone busy."
"Didn't Vice President Moguesly leave you and instructions to work from while she was away?" asked a faculty senator at the first meeting.
"I'm sure she meant to," said Hauser. "Unfortunately, the only things she provided were copies of the brand new strategic plan and vision for the university. There was absolutely nothing concrete to work from."