by Freddie Branch
Freelance Writer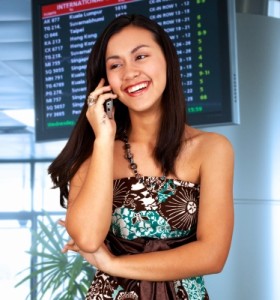 As we enter the holiday season, many of us will travel. This means two things: a free cocktail if you fly Southwest on New Year's Eve and the inevitable travel-induced stress.
However, you can turn this traveling nightmare of crying babies, delayed flights and misplaced luggage into a professional development experience by remembering those student affairs theories learned in graduate school. We spoke to student affairs professionals and gathered the following advice.
Carlos Brotwurster, resident director at Nuberlan University had this advice on dealing with those unprepared at airport security lines, "I just think of Chickering's 'Developing Competence' vector and turn TSA into an educational moment by narrating my actions and explaining the benefits of each action as it pertains to myself, my fellow travelers and security. People just need to understand why these actions are important from another's perspective and I know how to be ready. Just because we are trying to catch the redeye back home doesn't mean we can't learn something!"
Luc Uverzealus (who is currently job searching) always looks for ways to increase his diversity awareness while traveling. "I always try to sit next to someone who is different than I am and I always buy culturally aware books and magazines to read on planes. I know that my actions not only send a message to underrepresented travelers but also to white males. The great thing about flying is that we are all on an equal playing field back in coach. Sometimes on overbooked flights I get bumped up to fly first class, but I always talk about privilege and social justice so everyone knows how inclusive and aware I am. Did I mention that I am currently searching for a position in residential life?"

Ramona Borrings from Southern North Carolina College tries to work in a reflective conversation with travelers who are rude to airport personnel. "I ask them if this is how they would want to be treated and remind that we are all someone's mother, father, daughter, son, legal guardian, partner, significant other, unrequited crush, grandmother, grandfather, third cousin twice removed or colleague. They roll their eyes at me about half way through which tells me my learning facilitation is working because that's how I was trained to know that conduct meetings were going well. You can always make a difference even at 40,000 feet in the air!"
If you travel this holiday season remember that when things are delayed or other travelers are not as prepared, calm or understanding as you are that you can always turn your flight into an educational moment.