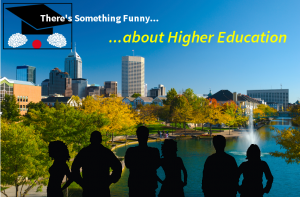 Ready for some cost-friendly, high impact professional development? Want to solve problems with colleagues from different parts of the country and different areas of higher education? Do you like to have fun while you're getting intellectual?
This March, The Cronk of Higher Education hosts There's Something Funny About Higher Education, a colloquium for educators to put their left and right brains together to find unique solutions to small and large problems in the ivory tower.
Capped at 15 attendees, There's Something Funny… will provide training, practice and plenty of fun so each participant will have an active role in learning and producing. At the end, each registrant will walk away with a toolkit to replicate the processes learned in order to promote innovation, high morale and a culture of creative action. That's right, folks. We're taking this to the world!
There's Something Funny about Higher Education
   When?  Sunday March 30, 2014, 1:00-5:00 p.m.
   Where?  Omni Severin – attached to the Indianapolis Convention Center Skywalk
   How much?  $49.99 (You read that right. We don't get rich at The Cronk. We do good.)
   How do I learn more?  Details and secure registration are located at TheresSomethingFunny.com
For more information, contact Events@CronkNews.com.