by Leah Wescott
Editor-in-Chief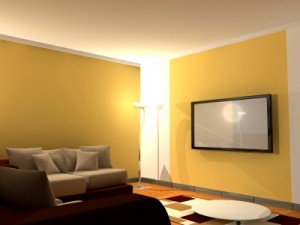 Residential professionals at New Victoria College have taken a stand against supervisory tyranny by purchasing homes outside the campus that hired them under the condition of living in free apartments.
"My contract says I'm required to live in the dorm I supervise so I can respond to emergencies and be 'a presence' to students who reside there," said Becky Colombo, residence director of Cloud Hall. "The job is designed to tax your soul."
Citing late-night emergency calls and excessive student interaction as sources of stress, Colombo and many of her colleagues have secretly purchased houses and condominiums about seven miles from campus.
"My new house is adorable but it's a terrible strain on my budget," said Peter Kelly, who moved from his three-bedroom campus apartment to a two-bedroom cottage. "I have to pay utilities now, cover my own internet expenses and when I get emergency calls, the trip to campus adds an extra hour to my sleep deprivation. Things like this make me feel like New Victoria just doesn't care about my quality of life. For that reason, I don't feel guilty at all for 'violating my contract,'" Kelly emphasized the last point by drawing quotation marks in the air.
"The school doesn't care if we burn out and leave," said Colombo. "My supervisor told me that I should appreciate my free apartment, meal allowance and parking place and tried to convince me that I'm making a good living. She's so out of touch with the real world."
Upon learning of the off-campus arrangements of many of her staff, Director of Residence Life Joyce Clabber was noncommittal.
"Perhaps they're right and I've been too unsympathetic," said Clabber. "Their request to be free of all their on-campus responsibilities may be the best answer. I've decided I need to show more empathy. I will give up my mortgage, grocery bill, utilities and maintenance fees in order to move into one of their apartments. Walking a mile in their shoes instead of commuting for six hours a week will be a good lesson for me."