by Joel P.
Freelance Writer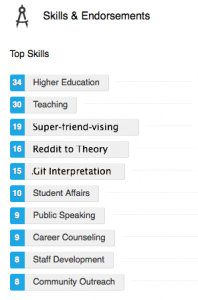 As the focus on gaining employment after college graduation continues to preoccupy students and staff at institutions across the nation, the social network LinkedIn has continued its steady growth in membership and popularity. The network is focused mostly on professionals and professional work, as opposed to Facebook or Twitter, which focus mainly on drama, silliness and pictures of kitties.
"We know that we can no longer corner the cute kitty market so we have focused on professional experience and development, and we feel we have a great base for our members to build on," says Karen Craig, Director of Outreach for LinkedIn, Higher Ed Branch. "We know that our members, particularly in higher education, love to endorse each other, so we have made peer endorsements a key selling point for our higher education members."
"I think endorsing my colleagues for having skills and expertise in higher education is so meta," explains Jon Spacek, director of student activities at Tuben College. "Like, we are all experts in higher education. I also really enjoy endorsing people for 'Eating Lunch Away From Your Desk,' a key part of being an expert in higher education."
Recent data has shown endorsements have picked up in popularity in recent years, and as the millennial generation enters the higher education workforce, some endorsements are changing. Categories like "Reddit into Theory into Practice," ".Gif Interpretation," and "Super-friend-vising Students" have recently taken the top three spots of most popular endorsement categories, over mainstays like "Student Affairs."
Some professionals and students have not found much success with LinkedIn's endorsement function. Sam Larfo, director of communications at Immanuel Polytechnic, shared recently that her prom date recently endorsed her for "Higher Education" and "Eating Pasta in a White Dress." "It was weird," said Larfo. "I don't even like pasta."
"I don't get the whole endorsements thing," said junior Sadie Picasa, who is currently an internship seeker at Immanuel. "It just feels like I'm 'poking' or getting poked by professionals," referencing Facebook's ever-popular Poke function. "I thought you had to go to interview fairs for that."
DISCLAIMER: Author Joel P. is endorsed by 11 people for "Funny" on LinkedIn.