by Con Chapman
Lifestyles Editor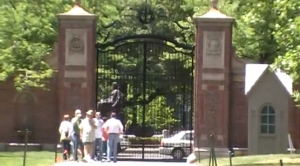 CAMBRIDGE, Mass. Oliver Talcott III, the last student to receive the grade of C as an undergraduate at Harvard, died yesterday after a brief illness. He was 95.
"Ollie was the last of his line," said college historian Charles Witticomb. "He didn't give a flying you-know-what what grade he got and he didn't care who knew it."
Talcott was assured of a place in his family's investment business after graduation so he spent his college days assiduously pursuing exotic dancers in Boston's notorious "Combat Zone" adult entertainment district while he earned what were then referred to as "Gentleman's C's." When he happened to walk past an assigned class on his way back to his dorm to sleep off an evening's cocktails he sometimes paused to admire the strenuous efforts of less fortunate strivers, and then said "Carry on!" to a chalky pedagogue before hurling a spitball towards the lectern.
Harvard has belatedly recognized that grade inflation is a looming threat to its reputation after an independent study determined that the average mark had crept upwards to an A++ in non-pass/fail courses.
"It's a problem, no doubt about it," says Admissions Officer Hildegard Kneff. "I mean, it's a problem for unfortunate students who attend less prestigious schools since they'll always pale by comparison to our graduates."
One professor, Harvey Mansfield, has responded by giving students two grades; one, a "real world" mark that reflects the expectations they'll be required to meet once they leave Harvard Yard, and a higher "Less Than Veritas" grade that keeps him from being killed with a blunt instrument by a disgruntled student lurking outside his office.
In extreme cases, such as a failure to attend any classes or turn in any assigned work, Harvard professors had until recently given students B's but ended the practice after Cambridge police complained.
"I can't have my men out dragging the Charles River every morning for disconsolate suicides whose lives have been ruined by that kind of tragically unfair assessment of their talents," says Sergeant Jim Hampy. "Just give 'em an A and let 'em go on to be good, hard-working investment bankers, making millions."
In lieu of flowers, the family requests that donations be made to the Society for the Preservation of New England Antiquities, but not to bother with trifling sums less than five figures.