by Con Chapman
Lifestyles Editor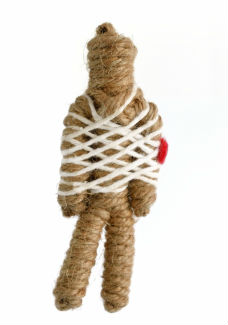 WELLESLEY FALLS, Mass. Marci Scribner looks like a typical housewife in this affluent suburb of Boston as she climbs into her forest green Range Rover, Kate Spade handbag in hand. "I'm always on the go," she says with a smile as she drives her 17-year-old son Tyler to his weekly appointment with the tutor she hopes will increase his SAT scores and get him into Dartmouth, where she went to business school.
But if that fails, Marci has an ace up her sleeve. "We know two other kids in Tyler's class are applying there, and they won't all get in." So while Tyler studies, she'll keep an appointment of her own with voodoo priest Togbui Assiogbo. "We need to use every trick in the book, because Dartmouth is Tyler's 'reach' school."
And what does the priest have in mind? "Let's just say when he gets through with those other kids," Marci says with a sly smile. "Their minds will function like they sniff a tube of glue for breakfast."
Voodoo, once confined to West Africa and the Caribbean, is spreading to American suburbs and displacing traditional Protestant denominations like Episcopalianism as the affluent seek out a religion that can give them tangible results, not the pie-in-the-sky of an afterlife.
"The whole 'turn the other cheek' philosophy is a boatload of crap, if you ask me," says Marci's husband Dennis, a venture capitalist who works in the Route 128 technology corridor that rings Boston. "Tyler's not going to be able to afford a $1.3 million 'starter home' going around loving his neighbor."
When Marci reaches Mr. Assiogbo's office, he lays out her options with business-like dispatch. "These other children," he asks calmly. "Do they have pets?"
"Yes," Marci says after thinking for a moment. "Courtney Phillips has a golden retriever and I think Adam Glopnik has a hamster."
"This is good," Assiogbo says. "I can cause them to die the night before the SATs—the pets, not the students. This sends the kids into an emotional tailspin that will crash their scores."
Marci hesitates, apparently troubled by the proposal. "These . . . deaths; are they bloody?"
"That's extra," Assiogbo says. "For the base fee of $500 the golden retriever chases a tennis ball into the woods and never returns."
"And the hamster?"
A sly smile creeps across Assiogbo's face. "Little hamster—so cute and furry. It is sad when he flies off the hamster wheel and crashes into his water bottle."