by Dallas McFraudy
Freelance Writer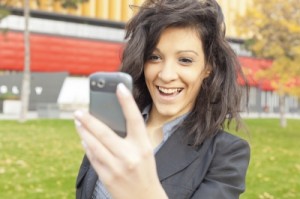 NACUP (National Association for College and University Professionals) has announced that its upcoming conference will be completely social media based.
After observations and informal research revealed that most attendees spend the majority of their time buried in their phones or tablets, the association decided it was time to go completely virtual.
Rather than having actual educational breakout sessions, the conference will be completely Twitter based. Presenter rooms will be transformed into lounges with couches and chairs so that all attendees can spend each day in one chair while tweeting with the simple hashtag: #NACUPACCCCCTTTT14 which stands for National Association for College and University Professionals Annual Conference- Charging, Championing, and Charting Change: Transcending, Transformation and Transcontinental Tactics 2014.
"This technology is cutting edge," said Elmer Brinks, chair of Technology Initiatives, in an interview. "We think this will be such a relief for all of our attendees. No longer will you have to step away from your phone or social media to meet someone new. Heck, you won't even have to leave the convention center Starbucks if you don't want to."
The benefits to this decision are endless. "I think this will really utilize social media and cut costs," said Heather Wilkiam, NACUP spokesperson. "We will no longer have to print conference programs, provide bags, or even pay for a keynote speaker."
Despite the cutback on printed materials the Association has assured us that they will continue to print name badges and provide lanyards.
"If we didn't provide name badges for people then what would we hang on the back of our office doors when we return home?" said Wilkiam. "We know how important it is to add to your collection of conference name badges so we weren't about to cut that important status symbol out of the program.
In the next few weeks, NACUP will send out a call for proposals which will look a bit different than in previous years considering all educational sessions, business meetings, roundtable discussions, panels and keynote speakers will be hosted entirely via twitter.
"Just tweet us a 140-character description of your offering with the hashtag #NACUPACCCCCTTTTPROPOSAL," said Wilkiam. "Include all learning outcomes, a relevant literature review and a description of your expertise in modern media. A select team of reviewers will provide you with their decision and a meaningful critique of your submission."