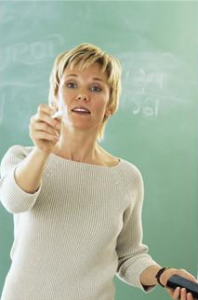 Professor Wayne Gobbins of Venice Community College set a new world record Tuesday when he rambled 44 minutes in response to student Robert Bye's yes/no question.
"He was amazing," said Patti Osment, a sophomore in Gobbins' Introduction to Rhetorical Analysis course. "Bobby asked him if he could take an extra copy of the syllabus for his sick roommate, and it was the start of one of the most special academic experiences of my life."
"I just had a simple question," said Bye, who will be named in the record books as the student who made the assist. "I had no idea it would lead to a lecture on the class absence policy, a personal memory of Professor Gobbins' fifth grade bout with pink eye and something I couldn't quite decipher about how he couldn't remember whether he'd packed his lunch that morning."
Was the professor surprised by all the hoopla?
"Oh golly I never planned anything like this," said Gobbins. "I try not to plan much at all and it seems to lead to beautiful organic moments like this one. It kind of reminds me of the time I was at summer camp in 1962 and I found a little toad nestled under a tree branch. Did you see the tree branch outside my office this morning? It looked like there may have been rain last night. Oh, now where did I leave my car keys again?"