by Joel Pettigrew
Biting Satirist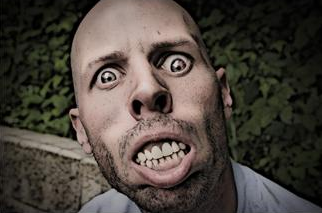 Humans vs. Zombies, the hugely popular game of tag taking place on college campuses across the nation each year has an unexpected enemy. "HvZ," as it is affectionately called, pits students portraying "humans" fighting off their "zombie" peers with Nerf Guns. In the frenzy of play, it is not unusual for participants to raise the ire of non-playing campus civilians who have been trampled or inconvenienced by role players who are too caught up in the activity. As a result, actor Simon Pegg is suing the HvZ national headquarters claiming the game threatens human college communities and besmirches the reputation of real zombies everwhere.
Pegg, best known for his leading role in Shaun of the Dead, says he brought suit against campus leaders of the game, because the student-enacted undead were "attacking the living and breathing feel of campus community. Unlike real zombies, which bring people together, they're a general nuisance."
Student organizers were taken aback when they received the cease and desist order.
"Usually we only have to worry when a Nerf gun goes off accidentally in a lab and the professor freaks," said Jason Sandford, president of the Humans vs. Zombies Organization at Northeast Winchester College. "On rare occasions the U.S. President or another politician visits a campus hosting a game and the Secret Service complains about all the Nerf guns around, but this is different. Pegg is going too far."
"The tenth anniversary of Shaun of the Dead is this year, and Mr. Pegg feels that these 'zombies' have been wreaking havoc on campuses for a decade too long," stated Pegg's lawyer. "Too many coffees have been spilled and too many tour groups have been disrupted. The game gives actual zombies and their human counterparts a bad name everywhere."
At the time of publishing, rumors of a class action lawsuit swirled through Hollywood. Potential litigants include executive producers of "The Walking Dead," Brad Pitt, Milla Jovovich and (most devastating to the HvZ crowd) popular campus speaker Max Brooks.
"I love working with real zombies and I want to raise awareness that they're really being hurt," said actor/activist Woody Harrelson, "I was looking forward to making Zombieland 2, but if these fake undead don't settle the hell down I don't think I can risk my professional reputation."