by Jeffrey Ross
with special thanks to William Wordsworth
I studied slowly as pain allowed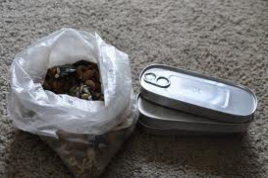 My head still hurt from that six pack,
When all at once I sensed the cure,
A silver tray of Kipper Snacks;
Within the pantry, just out of light,
The tab-topped can would prove me right.
Nutritious– yet most bones are fine
And healthy in their sea-salt way,
They sleep in gentle mustard brine
More than homely cheap fillets:
An even dozen packed per chance,
Headless fish all crammed askance.
The books beside them danced; but they
Mocked my student budget (nearly broke):
A miser could not be but free,
In such economic company:
I hoped—in hunger–but little cared
How my friends at big buffet had fared:
So oft, when on my phone I scan
Avoiding tests or papers due,
I gaze seaward with a fishy eye
Which is the bliss of solitude;
And then my heart with pleasure cracks,
And rejoices in the Kipper Snacks.