by Con Chapman
Lifestyles Editor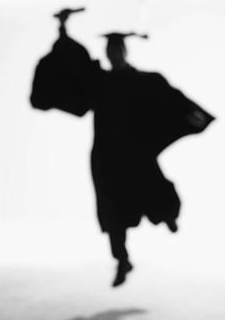 SMYRNA, Tennessee.  Alonzo Biggs, Jr. was a standout halfback in high school, but he learned over the course of four years at Middle Tennessee A&M that college football is an entirely different game.
"Everybody was bigger and faster," says the 5' 10" scatback who set state records for touchdowns at La Vergne High School, "so I got stuck on special teams."
But Biggs' obscurity ended last weekend when, after receiving his degree in Sociology, he did a duck walk across the stage, "low-fived" all of the school's deans—"including the Dean of Student Life" he notes with distaste–then did a flip before being escorted off for his graduation picture.
"The kid really nailed the dismount," says Jerry Orthwein, producer of the "Best of Stupid" videos that take undergraduate diploma stunts and turn them into a highlight reel that is studied by cut-ups across the country.
"If you haven't had a particularly distinguished academic career, making a spectacle of yourself at graduation is a great way to compensate," says Todd Unger, a '04 graduate who used a hidden hand buzzer to send the President of SUNY-Jasper into a state of shock at his graduation. "I didn't know the guy had a pacemaker," he says as he leaves a memorial service for the distinguished academic, who is fondly remembered for steering his institution through a smooth transition from cardboard library cards to an electronic checkout system.
The cartwheels, stogies and other props and stunts that underachievers use to distinguish themselves one time before heading out into a cold, cruel world that insists on actual, like, you know, results, are fodder for Orthwein, who converts them into the academic equivalent of a sports highlight reel that is studied assiduously by rising seniors.
"Biggs is the Michael Jordan of the social sciences," says Taylor Wehling, a class of '05 major in Physical Therapy at Upper Peninsula State in Baraga, Michigan, "but I'm the Kobe Bryant who's gonna replace him."
Wehling adjusts his cap and gown as Orthwein prepares to put him through his paces to see if he'll be a pre-season pick to make next spring's All-Star Team. "Okay," the older man says as he chomps his cigar, "show me what you got."
Wehling takes a few steps back to give himself more room to get up speed, then takes off like a high jumper as he approaches a mannequin dressed like a collegiate official holding a sheepskin. He reaches launch speed, curls into a Fosbury-flop style arch and makes a perfect landing at an "X" taped on the floor in front of the podium.
"That was good," says Orthwein, not wanting the young man to get a big head. "What are you gonna do if you graduate with honors?"
Wehling straightens his mortarboard, which he had secured with masking tape. "I don't think," he says as he catches his breath, "that's something I have to worry about."