by Con Chapman
Lifestyles Editor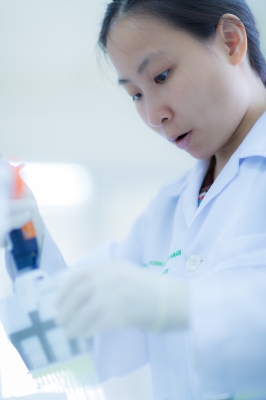 KALISPELL, Montana. Over the entire course of her three-year college career Shirley Leung, a slight Asian-American woman who is only 5'4″ tall, has been eliciting "She looks familiar" reactions from alumni at Western Montana University when they attend home football and basketball games.
"She's not in the press guide," says Maribell Durkin, Class of '68, as she adjusts her "I♥Mountain Goats!" knit cap, "but I know I've seen her somewhere."
That nagging sense of déjà vu comes from Shirley's many performances in so-called "institutionals," the 30-second advertisements touting a school's academic rigor shown during half-time of college sports broadcasts.
"Shirley's on the verge of setting school records for most yards gained wearing a lab coat and safety goggles," says Assistant Athletic Director Norris Barnum. "She's helped Western Montana appear to really care about learning and stuff."
But the $20 million settlement to be paid to college athletes by the NCAA for using their images without permission or compensation has caught the eye of lab rats like Shirley and her friends Alicia Homans and T.J. "Pocket Protector" Radnor. "We want in on some of that swag," says Homans, who is poised to graduate with a 6.0 weighted grade point average—out of a possible 4.0—if she continues at her current frenetic pace of answering 97 percent of all questions asked during upper-level survey courses.
And so these three and others who were admitted to Phi Beta Kappa in their junior year gather in the cafeteria of Marvela T. Noyes Hall where they reside while taking summer courses in fun classes they don't have time for during the school year, such as "Special Topics in Stochastic Variables" and "Advanced Seminar in Organic Chemistry" to plot their personal Revenge of the Nerds.
"We should sue!" says Radnor, but others put the kibosh on that plan by pointing out that lawyers cost money, a practical consideration that hadn't occurred to him.
"We should go on strike!" says Homans, but Leung points out that they've been appearing in the feel-good spots for free. "For what?" she says. "They'll just get another bunch of dweebs to take our places."
A grey cloud of glumness settles over the assembled over-achievers, until inspiration strikes Leung. "I've got it!"
"What?" the others cry aloud.
"We'll stop writing papers for the jocks!"