by Teena Angst
Freelance Writer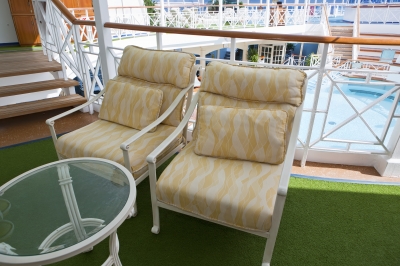 Fort Lauderdale, FL. Hannover Cruise Lines announced today that it will actively seek college student affairs personnel to fill activities planning, housekeeping, food service and room booking positions for their cruise line. Vice President of Operations Lindsey Smith explained that the idea occurred to her when a recent cruise manager discovered the skills of two residence life directors and a student activities graduate assistant.
"On one cruise it was as if our entire staff was obsolete," said Smith. When pressed for details Smith acknowledged, "I don't know, it just happened. When we asked about this thing called 'student affairs' we found a whole profession out there that does this," said Smith spreading her arms to indicate the entire ship around her.
Alfonso Davis, graduate assistant at Whattama University, helped shed further light on the story.
"We were attending the twenty- to seventy-year-olds' social the first night on the ship and there was no leadership. I pulled out my iPad and opened a human bingo game." Davis was assisted by Shirley Cooper and Demetria Robinson, full-time resident life professionals at Whattama University who helped facilitate the bingo game and declare winners.
Smith discovered Robinson behind the boat's check-in desk arranging cabin assignments and a cleaning schedule for the multi-port trip.
"It was just natural," noted Robinson. "They had to figure out an optimal housing situation taking into consideration theme groups that had to be clustered, while also accommodating a cleaning schedule for the new tourists. There was an aggressive bachelorette party hounding the desk, so I thought I could help. I've done more assignments on shorter notice with an summer entire cheer camp." Smith was astonished to see Robinson encode 56 key cards in ten minutes, including affixing the cards to lanyards.
Cooper's shining moment occurred when Hannover Cruise unexpectedly found itself short seven of its kitchen staff due to visa processing delays. Upon learning of the staff vacancies, Cooper organized the clean-up of the dining hall through establishing a tray return policy and creating a staggered meal time schedule for all 330 passengers. Cooper, modest about the experience admitted, "I just used an old residence hall check-in schedule I had handy. I've staggered the move-in of 950 residents so this was nothing. With no elevator to deal with, this was a cinch!"
"The best part about this," commented Smith, "is that we usually hire people at $60,000 a year to do these types of jobs. We can get student affairs professionals for half the salary and they will thank us for letting them travel!"