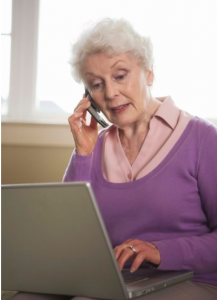 Administrators from Orange University flooded education list servs yesterday when the emergence of the mythical Helicopter Grandparent became a reality.
"I had just gotten off the phone with an irate mother 'Mrs. Smith' who wanted me to change her daughter's grade from a B+ to an A+ in my class," said Betty Okoye, professor of pharmaceutical science. "I gently walked through my grading policies and thought Mrs. Jones and I came to a civil understanding. No sooner had I hung up than the phone rang again with Mrs. Smith's mother!"
"I'd heard of the Helicopter Grandparent," said department secretary Ina Eastman. "I wrote it off as an absurdity like Bigfoot or the Loch Ness Monster. But I witnessed it. I heard Betty talking to her!"
According to socio-edu-psychologists, the existence of the Helicopter Grandparent is no longer a dismissable myth.
"Grandparents like Mrs. Smith's mother are a reality. They can't stand the thought of their adult children not getting what they want and they're using their clout as political activists in new ways," said researcher Paul Jorgens. "We've tried to alert the academic community about the oncoming swarm, but academicians called our work 'soft science' and ignored the warnings."
"My mother retired a few years ago and she's a little bored – maybe a little lonely," said Mrs. Smith. "We took her with us to my daughter's college orientation and Mom took it to heart when the college said they wanted to work in partnership with us. It's a terrific union for an angry old lady and a group of bitter college people who don't want to acknowledge the extraoridinary talents of my daughter."