by Con Chapman
Lifestyles Editor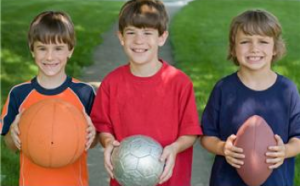 KALISPELL, Montana. When Andy Newcombe was hired as Western Montana University's head football coach last fall, he vowed to put out fires among Mountain Goat alumni who felt burned by a disappointing season under his predecessor, Joe Ray Diggs. "We have some fences to mend," he said at his first news conference, and he made good on his promise to get families involved with a program called "Reach Out and Touchdown!"
"It's a winner with us," says Class of '96 alumni Rob Obverg, whose son Timmy suffers from Osgood-Schlatter Disease. "It's been Timmy's dream to score for the team ever since I started drilling him on Mountain Goats football stats by tapping on my wife's stomach when she was eight months pregnant."
Modeled on the "Make a Wish" program, at each home game "Reach Out and Touchdown!" takes an ailing boy or girl, lines them up in the Mountain Goats' backfield before kickoff, and with the cooperation of the opposing team the youngster scampers into the end zone after mock attempts to tackle the runner by the visitors. "Osgood-Schlatter Disease is rarely fatal," says Obverg, when this reporter asks how long Timmy has to live. "But it's better to be safe than sorry."
This week's visiting team is the Central Oklahoma A&M Stinkbugs, however, where a bitter Joe Ray Diggs ended up after the Mountain Goats fired him. "That kid's cute, no doubt about it," Diggs says on the sidelines, "but I teach my guys to go full speed, every play. It's a matter of integrity."
Still, the charitable instincts of the young men of Central Oklahoma prevail when they see the young scatback whose every step will be painful because of the harmless but exotic-sounding disease he suffers from. "I looked in his eyes and could feel his pain," nose tackle Dupree Haskins says. "It's that sharp, shooting feeling I get when I inject steroids in my butt."
The Mountain Goats quarterback calls Timmy's play and hands the ball to the youngster who scoots left behind a wall of blockers.
"Go Timmy!" Mountain Goat fans shout as the boy skirts one feigned tackle, stutter-steps to avoid going out of bounds, then waltzes into the end zone where he spikes the ball as hard as his 110-pound frame can manage. A photographer from Western Montana's public relations department rushes on the field to get a picture, only to be struck in the temple by a beanbag tossed by Diggs, who challenges the non-call of an illegal block.
Boos rain down on Referee Monroe Guthrie as he makes his way to the sidelines to review the play. After several minutes of scrolling through slo-mo footage, he emerges.
"Upon further review, the call on the field is overturned, the ball will be spotted at the thirty-five." When Western Montana's athletic director takes him aside to tell him that the play was a charade for the young boy's benefit, he relents.
"Correction," he says into the microphone clipped to his jersey. "The ball will be spotted at the thirty."